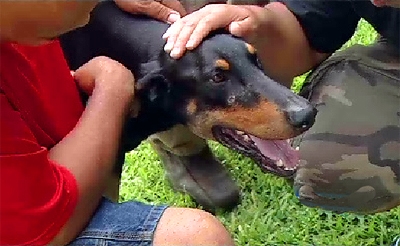 Five year old Zeus, a Doberman pinscher, took a bullet to the face while defending his owner from an armed trespasser on Monday evening.
"I let him out of the house and he ran around the side here and I started to come behind him, but before I could get to the edge of the house to see what was going on, I heard a gunshot and I heard him start to yelp and I turned around and ran inside. I didn't have anything to protect myself or whatever. I didn't know what was going on," said the dog's owner, Henry McCaskill.
McCaskill never saw the gunman who shot his dog and could not give a description to investigators. He and relatives are more concerned with finding a way to pay for Zeus' treatment.
"He's a sweetheart," McCaskill said. "The only thing he ever did was protect his home and his master."
Update (7/8/11): Zeus is home.
According to WWLTV, his family could not afford to cover his surgery, so the Humane Society of Louisiana started a national donation drive that quickly amassed thousands of dollars in donations.
"It just lets me know that people are still good. You hear a lot of bad things that go on in the world, but there are a lot of good people. Times like this they really came together, and I'm just thankful and grateful," said Henry McCaskill, the dog's owner.
The McCaskills intend to donate the remaining funds to charities that help dogs who've been victims of abuse or neglect.