WBTV 3 News, Weather, Sports, and Traffic for Charlotte, NC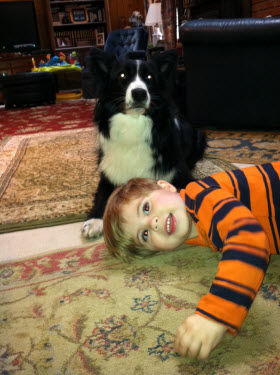 When 2-year-old Peyton Myrick went missing in the woods on Wednesday night, his dog Ash was by his side the whole time. After rescuers searched for almost five hours, Ash would be the one to lead them to the boy.
Peyton was spending the afternoon at his grandparent's house in York County, South Carolina on Wednesday. His grandfather was putting air in his tractor tire so the two could go pick out a Christmas tree. While his grandfather worked on the tractor Peyton played with the family's 2-year-old black and white Australian shepherd named Ashepoo, Ash for short. When Peyton's grandfather went to back the tractor out Peyton and Ash were gone.
The grandfather frantically called Peyton's father, Rich Myrick, who was at the pediatrician's office with his other son. Soon a wide-scaled search for the boy was underway. The search party included a helicopter, Department of Natural Resources officers, sheriff's deputies, police dogs and numerous friends and neighbors.
As night began to fall and temperatures dropped, Peyton's family became more and more fearful. Then at around 8:30 pm several rescuers spotted Ash. The family knew Peyton had to be nearby. "I didn't want to get my hopes up," Rich Myrick said. "I just hoped."
Ash led searchers right to Peyton, who was behind a barn about a quarter-mile from his grandparents' home. The 2-year-old was curled up on his jacket asleep. Ash has been by his side the entire time. "It sounded like a 'Lassie' movie," said Peyton's grandmother.
The family says Ash has always treated Peyton like he was her own. They share a special bond, "They're perfect for each other," said Peyton's father.  "I believe the dog was his guardian angel in fur." Peyton was cold and tired, but otherwise fine. Emotionally he is doing well too, referring to his time lost in the woods as an "adventure."  Thanks to Ash, the adventure had a happy ending.