A Warren, Michigan family is mourning the loss of their family dog, after one of their terrible neighbors shot the dog with a pellet gun, resulting in the dog's death.  The man was arrested by police shortly after, however once they did arrive, they saw that the man had a large stash of illegal and legal weapons.
"We're here visiting family and I found her in the backyard with a pellet in her side," said Kayla Guy.  According to Guy, Coco as she was called was much loved by every member of the family, and she thought of her as one of her babies more than a dog, and obviously the family is just devastated.
"She was a part of our family and we only got to spend four years with her," Guy said.  "I let her out in the morning like I normally do and I always check on her to see what she was doing.  I saw her laying in the grass, and her breathing was weird.  I never would have thought it was a pellet gun, entry wound or anything like that.  I was just in shock."
Guy said that she worked as hard as she possibly could to try to save Coco, but it just wasn't possible.  After an hour and a half of effort, she finally accepted that Coco was gone, and this neighbor was responsible.
"She's been there for me when my husband's been deployed," she said.  "She was my emotional support animal.  Now I have nothing.  It's insane, you don't know who your neighbors are.  It's scary."
Warren police arrested the man not long after.  Guy said that this psycho was also seen shooting at a neighbor's garage door.  According to another neighbor and witness to this horrific crime, her windows in her car have been shot out several times, and she's known that it was this man all along.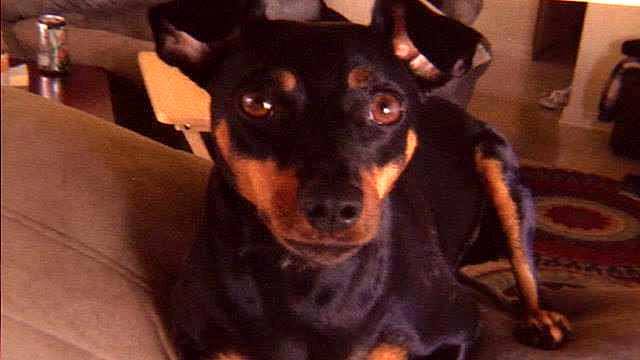 Once police arrived on the scene, the man's home was searched.  As they inspected every inch of the home, they found a massive arsenal of other weapons.  Some of them legal, some of them not so much.
As it stands, the 53-year-old lunatic is expected to face animal torture, and felony possession of illegal firearms.  There are other dog related crimes in this same neighborhood, and police now suspect that this man is behind a lot of it, and is suspected of poisoning a dog not that long ago.  Law enforcement officials have not released a list of all the charges the man will face.  Regardless, let's hope that he gets his just deserts.
"I just hope he gets the maximum sentence that he can get," said Guy.  "He took something that meant a lot, and we will never be able to replace her or bring her back."