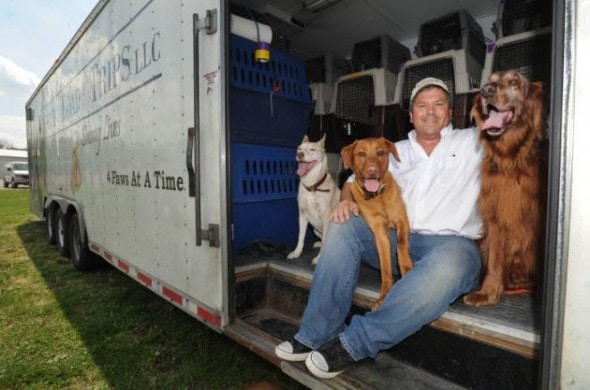 Greg Mahle is not just a huge fan of road trips, but is a dog lover supreme as well.  Making long distance trips twice a month for over a decade now, he has managed to find forever homes for over 2,000 furry friends.
Greg makes a 5-day, 4,200-mile road trip which takes him from his home in Ohio, south to Houston, Texas, then back north to New York, and finally back home to Ohio, all to assist in finding these forever homes.  This trip, multiplied by the number of times he's made it, equals out to over 1 million miles, or 42 times around the world!
When he gets to the southernmost part of his trip, he picks up around 80 dogs, all facing almost certain euthanasia, then delivers them to pre-arranged homes up north.  So far Greg and his company, Rescue Road Trips, have saved and estimated 2,000 dog from imminent demise.
"You see the worst of people and you see the worst of situations in the beginning when you're picking the dogs up," said Greg.  "By the time you get to New England, though, you have people crying for these dogs.  These dogs who have never had anyone to cry for them."
Greg adds that the South has an issue with strays due to a culture that does not believe in or enforce spaying and neutering.
Greg is not alone in his efforts.  There's a veritable army of volunteers that meet him and his semi along the way, helping to feed, walk, water, and spend time and play the dogs.  He also only charges $185 per animal for delivery.  This is barely enough to cover costs like fuel, food (for the dogs), or maintaining the truck and the trailer.
Greg says he's never had the idea of doing this to get rich in his head.  It matters little to him, as he told the Today Show. It's fulfilling work.
"I like the world I've created.  I'm happy in it," said Greg.
Visit NBCNews.com for breaking news, world news, and news about the economy