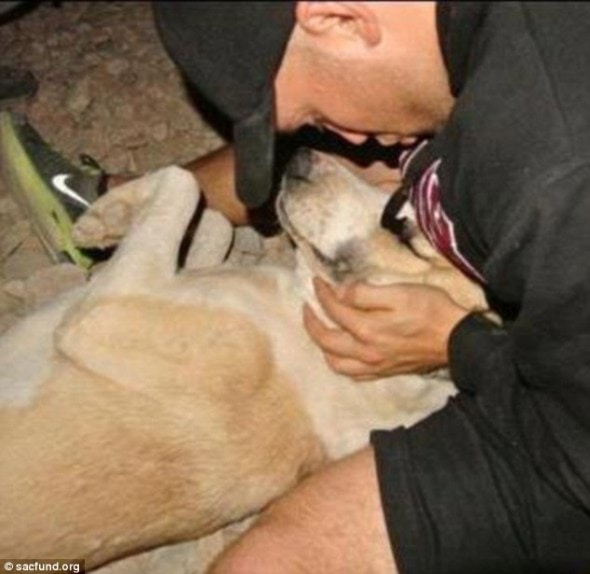 While on a year-long deployment in Afghanistan, Marine Sergeant Shaun Duling bonded with a stray dog. Duling had to return home to the States last month without his best friend, Bolt. Thanks to more than $4,000 in donations, and the help of a nonprofit that works to reunite troops with pets adopted overseas, Bolt and Duling will be reunited.
When Duling first arrived in Afghanistan last October he was en route to an encampment when he spotted two dogs running beside his vehicle. Another  marine informed Duling that the dogs were Xena and Bolt. The two dogs had been hanging around the base for a few weeks. Bolt was skinny and malnourished, the more timid of the two dogs. Duling started to build a relationship with him to try to get him healthy. "Before you knew it, Bolt was putting on some weight, running around and playing more with Xena, and just looking like a normal happy dog again," Duling said.
Duling built Bolt a dog house to keep him warm during the winter months, complete with foam pads and a blanket. As the winter got harsh Duling asked for permission to let Bolt sleep with him. Bolt spent the winter safe and warm sleeping in Duling's tent on a foam pad and one of Duling's Redskins blankets. When spring came a commander told Duling and other soldiers who acquire pets that they strays would have to leave the encampment. Bolt was confused when a month later he was taken off the base with the other dogs to a nearby village.
Bolt refused to stay away though. "The next morning I started walking up to work as usual," Duling said,"I got about half-way there when out of nowhere Bolt comes running up behind me in a dead sprint…I was caught completely off guard. But there he was, tail wagging and happier than ever." Bolt had traveled 10 miles to return to base. Bolt's efforts convinced the base commander to let him stay.
When it was time for Duling to return home he had to leave Bolt behind. It was a difficult separation for the two friends. "As I was walking to the helicopter I tried to get some of the guys to hold on to him, but he broke free and he tried to jump on with me," said Duling. "I think he knew I was leaving and leaving for good. He just looked so sad and confused and I  was like that can't be the last time I see him."
When Duling returned home to Virginia he couldn't get Bolt off his mind. Duling posted his story on Facebook and that's when he learned about the charity Nowzad through a friend. Nowzad runs a shelter for animals in Afghanistan and helps reunite people with their pets they find on long deployments. The cost to get the pets to the states isn't cheap. It costs $4000 to transport the animal. Duling posted his story on the charity's website on October 10th and by October 12th over $4,000 in donations had come in.
Nowzad has Bolt in their care and he will be reunited with Duling next month.