The Greyhound Adoption League of Texas is caring for eleven greyhounds that were abandoned in a dog trailer outside a Wichita Falls convenience store earlier this week.
The dogs were found on November 21st, and it is believed that the trailer went unnoticed for approximately 40 hours before someone realized that it contained live animals.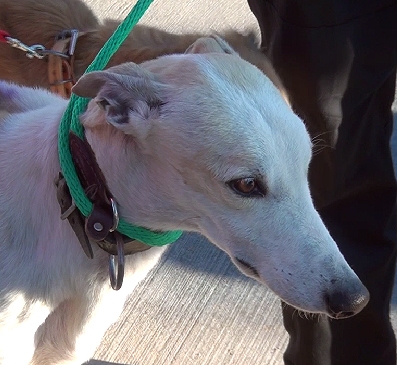 Wichita Falls Animal Services Center took possession of the dogs and made arrangements to have them transported to the Greyhound Adoption League of Texas in Carrollton. A caravan made the trip Wednesday, and GALT will assess, treat and foster the dogs until new homes can be found for them – at great expense.
If you've been with us for some time, you are probably shaking your head and wondering how GALT does it: they have had a demanding couple of years, to say the very least. Faith was a really tough case, and the cost of treatment for her and her puppies was substantial. And who could forget the seizure of the "FWAC 28" – a group of dogs so severely neglected that even your jaded editor was left with a keyboard full of tears upon learning of the torture they were subjected to.
The wonderful, compassionate people who make up GALT have been put to the test of late, and have truly come through for these gentle souls in a time of need. Please consider lending your support – financial or otherwise. You can learn more about them at www.greyhoundadoptiontx.org or follow the progress of the dogs on their Facebook page.
If identified, the person(s) who abandoned the dogs could face criminal charges, but given the outcome in similar previous cases, a fine would be more likely.

Note: this video suffers from buffer overrun: to enjoy it without constant pauses, watch the first five seconds, pause it and wait for the progress bar to complete before resuming.