When Miami-Fire Rescue got a call about a tired dog in a Southwest Miami-Dade canal, they headed to the scene and found what appeared to be a Rottweiler-mix struggling to stay afloat.
"They quickly went in and pulled the tired dog out," said Lt. Kirsten Miller, a spokeswoman for the department.
Video of the rescue shows three firefighters in the water, getting the dog to shore. The dog is then placed on a yellow tarp, clearly relieved.
The department said the dog's rescuer, whose heart-strings were tugged by the sweet-faced pup, "will be taking the dog to nurse it back to health and try and find it's owner."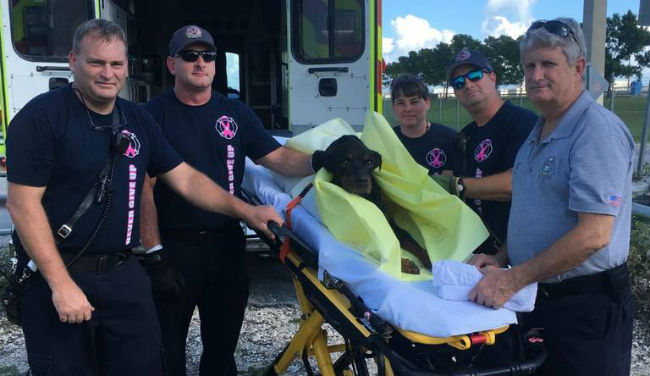 Did you know…?
Dalmatians, of course, are these days a mascot-dog of sorts to firefighters, but back in the early days of professional firefighting, this breed served a vital role that pre-dates even their time serving alongside these brave heroes.
It was discovered, much earlier on, that Dalmatians not only did a good job keeping pace with horses as they pulled carriages in the days before engines, but even protected them and kept them calm. British aristocrats used them for this purpose in the 1700s and the dogs even became something of a status symbol, according to Trevor J. Orsinger's book, "The Firefighter's Best Friend: Lives and Legends of Chicago Firehouse Dogs.; the more Dalmatians you had running along side your carriage, the higher your social standing.
This became far more important when it came to fire, which of course, naturally frightens horses. The Dalmatians' presence would keep them calmer during blazes, allowing the firefighters to better do their job. And so they became the breed of the profession.
For awhile, even after the invention of the automobile, the dogs were kept around for tradition, instead guarding the fire house and all that was in it while the firefighters were out battling a blaze. Though few stations still maintain the tradition of Dalmatians in fire houses (those who do have dogs have them in all shapes, breeds, mixes and sizes these day), they do remain a fun, spotted symbol of this noble profession.