Matt Falk has good reason to support House Bill 5403: after what happened to his dog last week, he wants to know if an animal abuser moves into the neighborhood. Falks's good-natured husky is recovering from severe chemical burns to his face. The blind dog is trusting with strangers, and his owner believes that his friendly demeanor left him helpless when he could not see danger approaching.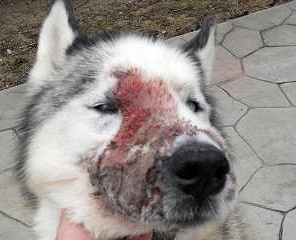 "He's very, very friendly, that's why we think he got it more than the other dog in the pen," Matt Falk said. "He's blind, so he comes up and says 'hi' to you. He's the sweetest dog we got."
Falk believes someone flung acid in the dog's face. He said he found Logan with small burns that quickly spread and dissolved half of the surface of his snout. Falk's other dog was in the same kennel, but does not trust strangers – and was not injured.
Logan was rushed to a local veterinary clinic for treatment. When he was stabilized, Falk called authorities to report the incident.
"It just sickened me," he said of seeing his dog hurt.
He speaks with conviction when he says those responsible for harming animals need to be held accountable. Falk says he supports stricter welfare laws and an abuser registry.
"I think it should be done. They're defenseless animals," he said.
In support of those defenseless animals, Rep. Harvey Santana, D-Detroit, has introduced a bill to create and maintain a permanent registry for animal abusers.
"Individuals who would harm defenseless animals pose a threat to all of us," Santana said in an email to the Times Herald. "There is ample evidence that animal abusers can be very bad people. Numerous studies have linked animal cruelty with other forms of violence, including child abuse, spousal abuse and elder abuse and we have all heard the stories of notorious serial killers starting out as animal abusers."
Santana is convinced that awareness alone can make communities safer, and says a publicly searchable database will help pet owners to keep their four-legged loved ones from exposure to danger.
"Beyond that, I feel a deep sense of responsibility to care for and protect the defenseless," he said. "As a state representative I like to say I speak for those who don't have a voice in Lansing, and now, through House Bill 5403, I am speaking out for my non-human constituency as well."
Falk said people have been offering words of support from across the country and around the world after photos of Logan circulated on Facebook.
"The outpouring of support has been amazing," he said.