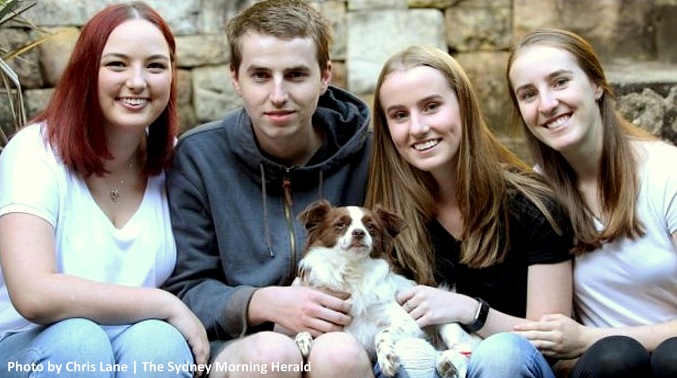 A dog in Australia has earned himself a bit of a reputation as a legend.  Charlie Houdini-ed his way out of his yard during a storm and found himself on a set of railroad tracks.  Three trains passed over him, one knocking him unconscious.  Veterinarians told the family to say their goodbyes, but he surprised everyone by surviving.
Two weeks ago a big storm hit in Yarrawarrah, a suburb of Sydney, Australia.  Charlie Puccini (so named because of his fondness for Italian food) escaped from his backyard and fled to the tracks between Loftus and Engadine stations.  His mom, Ann Paynter, was able to cobble together the story of what happened after speaking to railway staff and relayed the information to The Sydney Morning Herald:
"When he was found he had been knocked out by the undercarriage of a train.  It had knocked him flat.  Apparently, Charlie was sitting on the tracks and stared down the train as it approached. He probably thought it was a car. He often goes to the park and is used to cars stopping for him as he crosses the road. The train driver sounded the horn but couldn't stop. The train passed over him and knocked him out.
"Thinking he had killed him, the train driver was devastated and phoned ahead to Engadine station and a Sydney Trains incident commander named Simon set off in his car down the track to find him.  He saw Charlie knocked out on the sleepers between the rails. He watched as two other trains passed over him.
"It looked like Charlie was dead. At one point, Simon looked up and saw the crows were already circling Charlie.  As soon as it was safe, Simon approached and saw that Charlie's eyes were open, so he went to his ute (utility vehicle), got a towel and scooped him up.  Charlie's leg was badly damaged and his eyes were bulging. Simon rushed him to Engadine Veterinary Hospital.
"We went to the hospital and the veterinary surgeon advised us of his condition and asked us if we wanted to make a decision to have him put down.  We met at midday the next day, thinking it was kinder to put him down.  After making the decision, the vet gave him to my daughter Lucy to nurse. She was crying and calling his name and he lifted his head and began licking her arm.
"He responded to her calls and we quickly revised our thinking. We said, 'No, he was meant to be.' So we decided to adopt a wait-and-see attitude.  The kids did a vigil through Saturday and he got better and better and began to eat food.  In six to eight weeks, he should be all systems firing.  Everything was in his favor – the train driver, the incident commander, the veterinary surgeon and the kids."
But it wouldn't just be the family who missed their King Charles Cavalier mix – Jake Paynter and his girlfriend Pierra take him to nursing homes on a regular basis to brighten the day of folks living there.
"He loves company," Mrs. Paynter said. "He's a company dog. He's loving and kind dog who knows if someone is sad or in need of a pat.  He's just been the most beautiful little gift to our family."