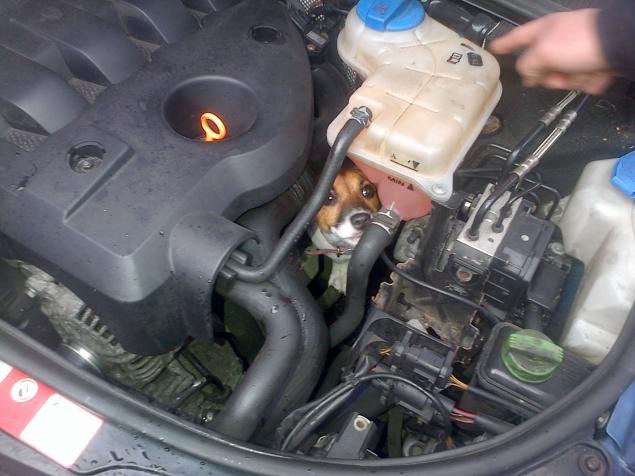 Gary James panicked when he realized his Jack Russell terrier Betty Boop had escaped from his front yard. He began frantically searching, but would have never guessed where Betty Boop ended up. James' neighbor Gavin Juliette found the dog trapped inside his car engine. Somehow Betty Boop had survived a 30 minute car ride stuck inside Juliette's car.
Gary James went to go check on Betty Boop in the front yard when he discovered an open gate and Betty Boop nowhere in sight. James was in a panic searching for his 3-month-old puppy when his neighbor came over to tell him he'd found her inside his car engine.
Juliette had driven for 12 miles to pick up his mother-in-law. When he got back he heard a barking which at first he thought was coming from his yard, but then he put his ear to hood of his car and realized the barking was coming from his engine. He opened the hood and saw Betty Boop under the oil filter.
The two men began taking apart the engine to free the puppy and she came out remarkably uninjured.
"When I first saw her in there, I thought she was bound to be injured or badly burned, but apart from being covered in oil and a bit shaky she was fine," said James.
Betty Boop is back to be a normal puppy and playing with James' three kids. James plans to keep a better eye on his gate to make sure she can't escape again.