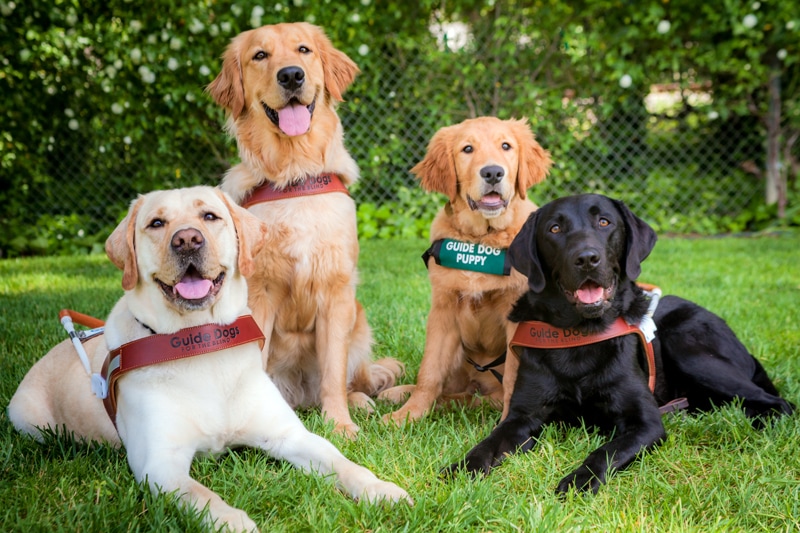 In September, Natural Balance and Guide Dogs for the Blind are partnering up to spread awareness about the amazing bond between people who are blind and their guide dogs. In addition to providing enhanced mobility for their handlers, guide dogs can also be a social bridge, opening a world of possibilities for friendship and human connection, all while showcasing the incredible capabilities of man's best friend.
National Guide Dog Month was founded by Natural Balance's co-founder Dick Van Patten, who was blindfolded during a trip to a guide dog school and was able to experience how these amazing canines provide mobility to the visually impaired. In his case, not seeing was believing. It was a truly inspiring experience.
After learning that the costs to raise and train a guide dog exceed $40,000 and can take up to two years, Van Patten was inspired to help raise awareness and money for guide dog schools. Natural Balance Pet Foods has underwritten all costs for the promotion of National Guide Dog Month to ensure that all money raised would directly benefit non-profit, accredited guide dog schools in the United States –  schools that are doing critical work: like the one that trained Yuri, a yellow Labrador who now makes every day a safer one for his human companion.
Imagine, for a brief moment, what it would be like to work in the middle of Times Square in New York City. Imagine weaving through the large crowds, the bustling commotion, and the pulsing energy at every corner. Now, imagine trying to do this without your eyesight. For Ashleigh Hertzig, this is not just an imaginary scenario—it's her everyday life.
Visually impaired since birth, Ashleigh used a cane to get around for years—but found that it became increasingly difficult to be mobile during the wintertime due to dangerous patches of ice on the pavement. These harsh winter conditions—combined with encouragement from her family—got her to consider the possibility of a guide dog.
Ashleigh grew up terrified of dogs, but as she began researching Guide Dogs for the Blind, she felt that their positive reinforcement philosophy matched her personal beliefs and values. So she took a leap of faith. When Yuri—a Guide Dogs for the Blind-trained yellow Lab—first walked into her life, Ashleigh remembers he was so excited that he couldn't stop sneezing. Now, over two years later, they're so connected that she can't imagine life without him.
"Being paired with Yuri has changed my life in so many ways. In addition to being my eyes, keeping me safe, and giving me independence, he has also become my best friend—and is constantly by my side," says Ashleigh. Without Yuri, Ashleigh may have never developed the confidence and independence needed to fulfill her dream of living and working in New York City. She is now able to navigate the city's fast-paced subway system every day, feeling fully safe and cared for.