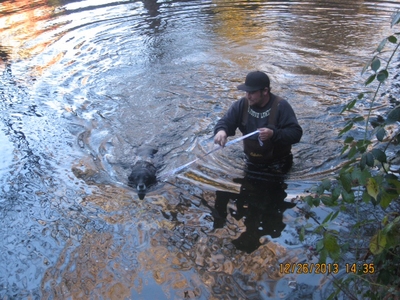 When a black Labrador retriever became stranded on the edge of the San Lorenzo River in California neighbors came to her rescue.
Early Thursday morning neighbors in the Ben Lomond neighborhood heard a dog crying for help. They located the black Lab stranded on a small piece of land by the river and called Santa Cruz County Animal Services.
"What we surmised happened is that there's a pathway that leads down to the river and the dog probably walked down to the river to get a drink or something and it must've fallen in," said Todd Stousy with Santa Cruz County Animal Services.
The dog was surrounded by thorny bushes and a steep cliff. Animal officers were trying to figure out the best way to rescue the dog when neighbor Jake Langdon came up with his own rescue plan. He strapped on a pair of fishing waders and walked into the waist-deep water with several hot dogs in hand.
The dog initially barked at Langdon, but once he offered her some hot dog she let him put a leash on her and lead her into the water.
"She just jumped," said Langdon. "She was ready to get out of there."
The dog was taken to the animal shelter to be checked over, but was doing fine and was soon reunited with her family.