.
Dozens of dogs die every year because their careless owners leave them in vehicles while they run errands.  To help demonstrate the dangers of leaving dogs in cars – even for a few minutes – Arizona Cardinals safety Tyrann Mathieu sat in a parked car for as long as he could.  He didn't last long!
"I seriously couldn't imagine leaving my dog in a car like this," Mathieu said.
Yes, dogs love car rides, but they don't need to run errands with mom or dad.  They should be left at home unless they're going with their owners.  Many people forget that it only takes a couple minutes for a car to reach 100 degrees once they shut the engine off and close the doors.  Having windows cracked barely helps, and many a dog has succumbed to heatstroke with the windows partially open.
.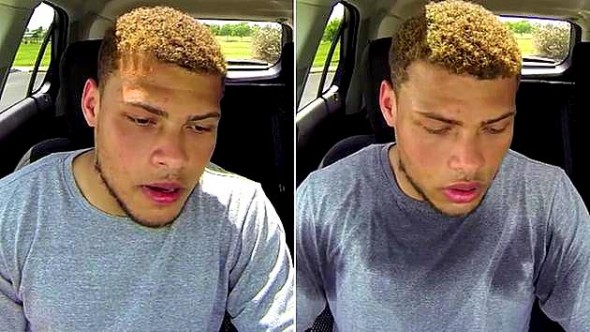 .
PETA isn't every animal lover's favorite organization – because of their tasteless and pretentious ads, their sexism, their fear tactics which often rely on unsubstantiated "facts," their discrimination against bully breeds, and worst of all, their blatant hypocrisy.  They seem to spend more money on advertising than on animal rescue, and kill more animals in shelters than they get adopted.
But every once in a while, they come up with a campaign that doesn't cause the world to face-palm in unison.  In July they had Mathieu sit in a black SUV on a 90-degree day.  In just four minutes, the temperature soared to 105 degrees.  At eight minutes – Mathieu's breaking point – the interior of the vehicle reached a choking 120 degrees.
.
.
"If you're going to make a dog a part of your family, then make him a part of your family.  Don't treat him like you wouldn't treat someone you cared about or someone you love."
Pets can't sweat, and they can't open car doors themselves.  If you see something, say something.
.