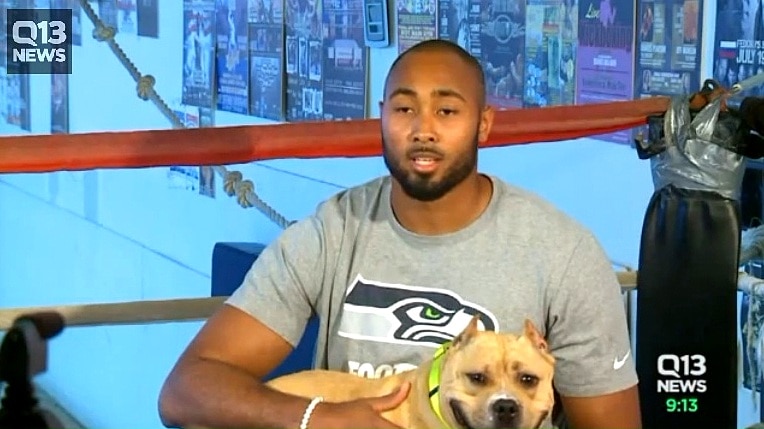 Despite years of public outcry, there are still thousands of people who think there's nothing wrong with fighting dogs.  To help put a stop to this disgustingly brutal hobby, Seattle Seahawks linebacker KJ Wright has made a plea for people to speak out against it and report anyone who participates.
"Dog fights:  it's not a sport.  It's animal cruelty, plain and simple," Wright said.
His message is part of a campaign launched by Pasado's Safe Haven, who is currently caring for Meadow, a former bait dog who was tossed out of a moving vehicle.
"She had been stuffed in box and thrown from a truck. She had life-threatening injuries," Pasado's executive director Laura Henderson told Q13 Fox.
Meadow is covered with hundreds of scars, which typically only come from fighting dogs.
"They're put into a ring with a dog that will be fighting so that that dog can attack the bait dog and practice being aggressive and fighting," said Henderson explained.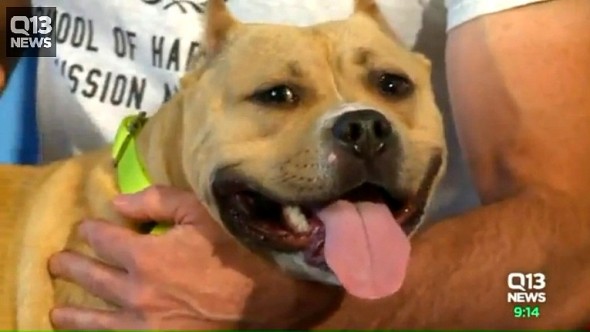 Though she has suffered from unimaginable amounts of fear and pain, so is still a very lovey girl who is content to make herself at home on someone's lap.  (But what pit bull or Staffy isn't?)
"These dogs need a voice, they need someone to stand up for them," Wright said.
Pasado is currently offering a $2,500 reward for information leading to the arrest and conviction of Meadow's abuser.  The man who threw her out of the black pickup truck is described as being tall and white with a mustache and camouflage pants.  Anyone with information is asked to call Pasado's tip line at (206) 300-7218 or reporting at www.pasadosafehaven.org.
"Don't be silent – be a hero," said former Seahawks safety Jordin Babineaux, another of the PSA's participants.  "If you suspect dog fighting is happening in your neighborhood or you know someone that's involved in animal abuse, do something about it."
"It's insane to me because dogs, they should be your best friend. They're just full of love. I have one of my own and so whoever did that should definitely be caught, should definitely be put in jail," Wright noted.