It's no secret that we are big Greyhound fans. Nigel is my third, and having spent years with these dogs I must admit to having a a favorite breed. Life is too short to only share a home with one, so we'll always have different dogs around, but I can assure you that a Greyhound will always remain in the mix. They are easy, laid back, loving dogs, and if you are lucky enough to share a life with one, the only thing better is getting a Greyhound from a warm, friendly, supportive adoption organization. Today, you'll meet a shining example:  Northern Greyhound Adoption, the one and only transitional home of Nigel Buggers.
NGA is located in St. Albans, Vermont, about thirty minutes north of Burlington, and just over an hour south of Montreal. They have been in existence since 1991, and have found forever homes for 625 dogs. NGA is run by a wonderful group of people, including the two true "hearts " of NGA, Donald and Dorothy Westover.
I first met the Westovers about seven years ago. I was ready for another Greyhound, and within minutes of arriving at their kennel I knew my next dog would be coming from them. These are kind,cheery,  wonderful people with huge hearts. Their primary interest is always the dogs, but they make you feel very comfortable about taking whatever time you need to find your way to a new companion. Accommodating and patient, they are easy to a fault. Don is legendary with locals for hosting years of friendly meet and greets at local retailers:  Dorothy is in her element running the kennel – they make for the perfect team.
Unfortunately, Don suffered two heart attacks this year – one in July, and a more serious one in August. Dorthy has been left to tackle many of his responsibilities since then, and to make matters worse, donations and volunteer hours are both down this year. In other words, they could really use help. So I'd like you to take some time to look around – see the remainder of this post and make your way to their website. It's fun and informative, and if you wish to help, there are links there that will tell you how you may do so.
More info from their site:
Mission Statement:
As a non-profit Greyhound rescue organization, N.G.A.'s aim is to accommodate ex-racers, spay or neuter each individual, and integrate them into the surrounding communities. Each year, we strive to place 60 dogs. Dogs are welcomed into our kennel, and socialized with our volunteers and other Greyhounds as they relax and adjust into their retirement years. Pursuant to our mission, we work to educate the public and increase awareness of the Greyhounds' plight.
One of Donald & Dorothy's Greyhounds, Blue Boy, using poppa Don's leg as a pillow at an adoption event at the Champlain Valley Expo in April 2009
Northern Greyhound Adoptions is a 501(c) non-profit charitable organization dedicated to taking care of retired racing Greyhound and finding them permanent, loving & responsible homes.  N.G.A. is operated by unpaid volunteers and supported solely by donations.
N.G.A. was founded in October 2001 and places 50 to 60 retired Greyhound into homes each year.  Donald & Dorothy Westover who head up N.G.A. have been dedicated to Greyhound rescue for over 15 years.
N.G.A. places dogs throughout Vermont and Northern New York, as well as in Canada through The League of Extraordinary Greyhounds (T-Legs) a rescue organization in Montreal, Quebec.
This is the only retired racing Greyhound adoption kennel in Vermont – and at any given time we have between 30 and 50 Greyhounds looking for their forever families!
In 2009 NGA placed over 90 dogs into their forever homes!
Why Should You Adopt a Greyhound?
Greyhounds are a gentle breed of dog.  They are an affectionate, quiet and low-shedding breed.  They tend to get along well with other pets and children of all ages.
They rarely bark so they are not suitable for a watchdog.  No matter what age a Greyhound is when adopted they will bond tightly to their new family – the affection they give is very rewarding!
Many people think that Greyhounds need many hours of exercise, this is untrue.  Because of what they are bred for – running short distance races – they are sprinters, not long distance runners.  Yes, they do need playtime and on-leash walks, but not hours and hours of this; they would rather spend hours sleeping on the couch!
Greyhounds generally stand between 26 and 29 inches tall and weigh between 50 and 80 pounds.  They come in many different colors and in different combinations of those colors.  Females do tend to be smaller than the males.  Most ex-racers are between 2 and 4 years old when they go into rescue.
.
NGA's current featured dog is Ray, and if the new fence were in at our house I might be on the way to snag him myself. Check out this beautiful boy!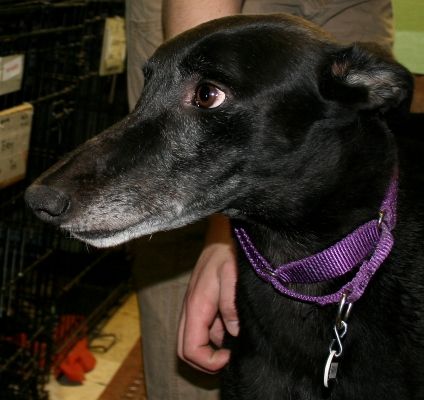 Oooooh Ray!  SO handsome!  He has wonderful good looks and a coat like plush puppy-fur!  Calm and pleasant, a wonderful all-around Grey!
Registered Name: Race Is On
Sex: Male
Color: Black
Right ear tattoo: 15B
Left ear tattoo: 30754
Birthday: Jan 6th, 2005
Arrived at NGA: Apr 11th, 2010
I know there is a heart out there waiting to be warmed by this boy. ♥
Please do take time to familiarize yourself with NGA, see the dogs, and drop them a note of encouragement if you have a moment. Smaller, well run organizations like these are the backbone of the animal welfare community, and deserve the full support of those of us who call ourselves dog lovers.
As I spoke with Dorothy the other evening, she mentioned that after adopting out over six hundred dogs, she was happy to only have to repossess four over the years. I thought that was a remarkably low number, and she agreed. When I asked what she attributed her success rate to, she laughed and said,  "I like to feel like someone will be caring for the dog like I am standing right there behind them."
Thank you Dorothy and Donald for being so selfless, and for always standing behind the dogs.

____________________
Highly recommended read is this link to a wonderful essay by Kathleen Gilley called "
Thoughts of a Greyhound
" – it really makes one think, and possibly lead the reader to be a better dog owner in general!
____________________
Some suggestions for where to find information:
Recommended Books:
"Retired Racing Greyhounds for Dummies" by Lee Livingood
"The Best Finish: Adopting a Retired Racing Greyhound" by Carolyn Raeke
"Guide to Adopting an Ex-Racing Greyhound" by Carolyn Raeke
"Greyhounds (Complete Pet Owner's Manual)" by D. Caroline Coile Ph.D.
"Greyhound: An Owner's Guide to a Happy Healthy Pet"  by Daniel Braun Stern
"Adopting the Racing Greyhound"  by Cynthia A. Branigan

Websites & other info pages:
forums such as GreyTalk are a great place ask questions and share stories & information.
The Ohio State University, College of Veterinary Medicine's Greyhound Health and Wellness Program
1st Greyhound Dog Care – a guide to care in honor of the site creators' beloved Greyhound