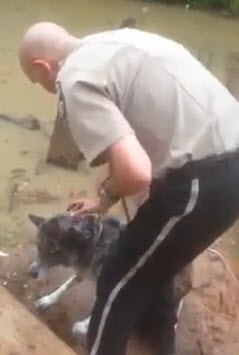 On April 18, 2014, Mobile County Sheriffs Deputy Roland Frye saved the life of a dog when he pulled him from a creek near March Road in Theodore, Ala.
It appears the dog lives nearby but somehow escaped from his home and wandered into the water getting trapped, and struggled to stay alive. No one knows how long the canine was in the water, but if it wasn't for Deputy Frye who was patrolling the area, the four-legged friend wouldn't be alive today.
According to CBS News 5, the officer was patrolling a construction site near the creek when he heard the dog crying. Deputy Fry investigated and found the scared dog clinging to his life at the end of a metal beam submerged in the creek.
After calling for assistance, the officer used a rope to tie to the dog and pull him to safety.
Once out of the water the officer petted the pet comforting him and seconds later the dog shook his fur dry and splashed the deputy's clean uniform.
The dog was later reunited with his owner.
Watch the original video posted on Fox News 10 Facebook page.