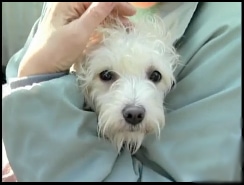 CHIPPEWA LAKE, Ohio — A woman and her daughter have been charged in one of the worst cases of animal hoarding in Ohio history after 113 dogs were removed from their home.
The Medina County SPCA was overwhelmed with the sudden influx. Designed to house only a few dozen dogs at a time, the facility was strained as volunteers struggled to make room for the animals. Another chief concern of those involved was feeding. Not only did the shelter not have enough food on hand, but budgetary and space limitations meant an uncertain future for those just rescued from an unthinkable future.
After local news aired the story, dog lovers from all over the area started helping.  So great was the outpouring of support that community members struggled to find parking near the shelter. They turned out in throngs to drop off food, blankets and other donations to the SPCA, literally burying the shelter in donated items, and ensuring that more than a hundred needy dogs could be provided for.
Grateful volunteers at the Medina SPCA said, "The outpouring of support has been phenomenal from the community. Thank you so much Cleveland, thank you Akron, thank you Medina."
Berea Animal Rescue is taking some of the dogs to their facility, and will soon offer them for adoption.
*NOTE:  there is a brief video about the community donations that has gone on and offline a number of times overnight. I'm leaving it embedded in case it is stable by morning. If it is not, the original story is included below for reference.  -NB
More information :
Medina County SPCA
Berea Animal Rescue
.
The original report.