Olive (previously named Windy) spent 13 years of her life in a cramped cage, having litter after litter of puppies and fearing humans, before being rescued and brought to National Mill Dog Rescue. A sweet natured Italian Greyhound, she did not seem to have great prospects of adoption due to both her age and her fear of humans. In addition, shortly after being rescued, a large mammary tumor was found that was inoperable.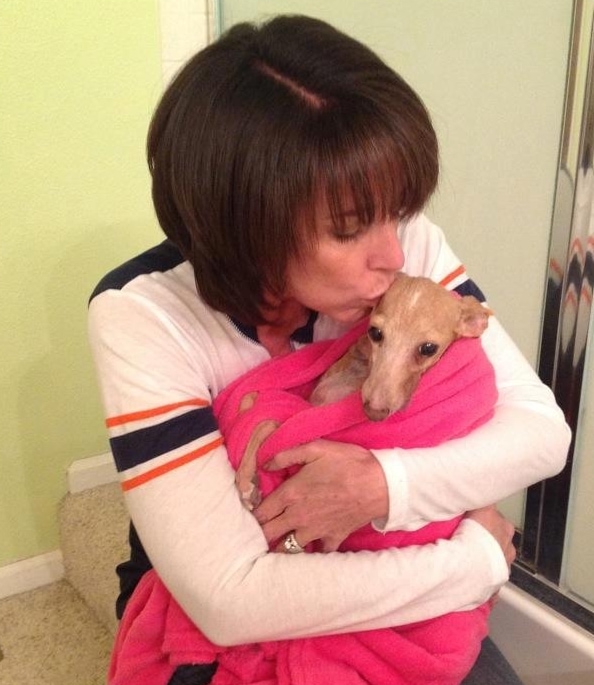 Olive was more comfortable at National Mill Dog Rescue than she had ever been in her life but everyone was holding out hope that she would be able to experience what a true home is before her trip over the rainbow bridge. She had never known what it means to curl up on a couch or wait excitedly for her forever family to return home.
Thankfully, one day a woman by the name of Judy came across a photo of Olive (then Windy) and began to fall in love. Judy tried to ignore the nagging feeling but she just could not stop thinking about the sweet Italian Greyhound. She already had two dogs, though, and thought she could not take in another.
Judy had also recently had another Italian Greyhound, Iggie, who had died of cancer and Olive reminded her of him. Each day, Judy would revisit Olive's page and check to see if she had found her forever home to live out the rest of her days in, but each day Olive simply stared back at Judy beckoning her to adopt.
So, Judy could no longer resist and she brought Olive home. She knew she might not have much time with Olive but she just wanted to give her a comfortable bed and a loving home for her final days.
At first, Olive was so timid she hardly allowed anyone near her and only felt safe in her new bed. She would watch Judy's every move and try to maneuver away. Judy assumed Olive was too damaged and old to expect her to bond with Judy and her dogs.
However, something strange began to happen. Judy would leave the room and then turn around and see Olive's little head peeking around the corner. Judy would turn back and Olive would run back to her bed. Olive then began to follow Judy into the kitchen when she was cooking, keeping her distance but always watching Judy.
Olive then gained enough confidence to join the other dogs and come forward when it was treats time. Finally, one day Judy put out her hand to pet Olive and expected the characteristic tension and was instead met with a nice, slobbery lick to the hand! Judy's eyes welled up with tears as she realized that Olive was healing emotionally. She also began to play with her pack family (the other dogs) and to just enjoy life.
Things still make Olive cringe, such as the kennel door opening or when Judy stoops to pick her up, but she is proof that even an older dog who has had years of abuse can begin the heal. She is continuing to live out her days with Judy in love and happiness.
————————————–
National Mill Dog Rescue's mission is to rescue, rehabilitate and re-home discarded breeding dogs and to educate the public about the cruel realities of the commercial dog breeding industry.  They are located in Peyton, Colorado and have rescued nearly 8,000 dogs in the 5 years since they were founded. They are a 501(c)3 non-profit organization.