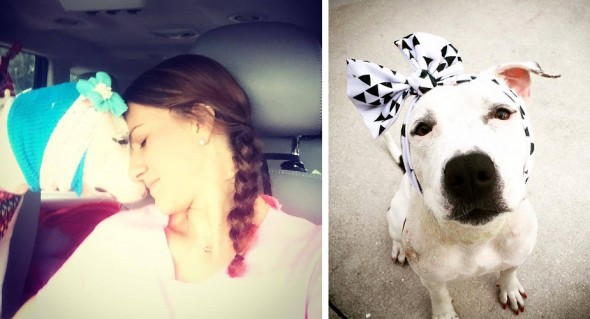 Back in November, Abigail was rescued from her hellish life as a bait dog, and she most certainly did not come away unscathed.  (We'll spare you the gory photos.) She lost an ear, but gained a family, a massive following, and a lot of sweet new headbands to help her while she healed.
Abigail was rescued by Victoria Frazier, the founder of the Florida-based Love Is Fur Ever Dog Rescue, who took her to get treatments from the brutal injuries she had endured.  In addition to having had an ear torn off, her head was deeply punctured and she had gashes on her back.
"She was anemic.  She was infested with ticks. She smelled so bad," Victoria told The Dodo.  "[The] whole entire side of her face was missing.  Her skin tissue was hanging. Most of her ear was gone."
Vets at the Pets First Wellness Center called hers the worst case they'd ever seen.   Abigail's injuries were a week or two old, and had she gone even another couple of days without treatment, she'd have died of sepsis.
After a handful of surgeries, Abigail's head was left stitched up and covered with gauze.  Victoria wanted to help her stay as comfortable as possible by protecting her wound with hats and headbands that volunteers knitted for her.  Abigail loved wearing them, and before long, she'd have more than she'd ever know what to with!
As Abigail's story spread, others began sending in other bits of millinery along with their well-wishes.  Victoria created a Facebook page called Bonnets for Abigail so fans could follow her progress and see photos of her donning her fancy caps.  She's got over 50 and counting.  And she likes her girls to look good, too.
In addition to a Facebook page, Victoria has also started a fundraiser to help cover the cost of Abigail's final ear operation.  If you would like to help, please click here.