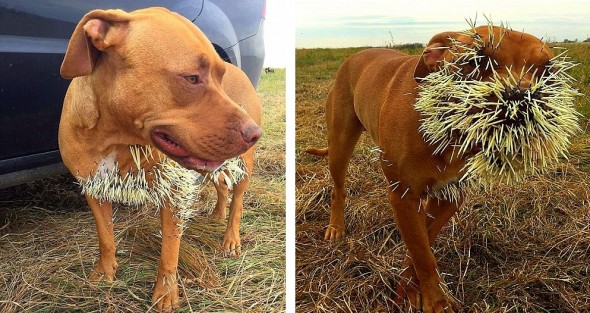 Three dogs in Canada are fortunate to be alive after encountering a porcupine who naturally defended itself.  Nestah took an entire faceful of darts, but Mahalo's injuries were far more severe, as quills had punctured her heart and lungs.  But now all three are recovering.
The dogs were outside playing on their Saskatchewan property when they came across the interesting-looking creature.  The porcupine was understandably scared of these three, big, bounding critters, and immediately went into defense mode, but the dogs had no idea what kind of trouble they were getting themselves into.
Soljah managed to escape with only a goatee, and Nestah's new facial piercings were highly painful, but Mahalo's new accessories were life-threatening and had to be surgically removed.
Their dad had to take time off work to be with her.  Family friend Mike Gerrand started a GoFundMe page to help with the skyrocketing costs.
"These dogs are the love of my dear friend Dennis's life – they travel everywhere with him and are loved by the special needs clients Dennis works with," he said on the page.  "Dennis is a youth worker at the Street Culture Project and runs a small organic farm outside Regina.  Dennis has had to take weeks off work to travel to Saskatoon to be with his baby girl.  The vet bills are nearing $8,000 and climbing…"
Nestah seemed to be out of the woods after having his face plucked, but then collapsed, and it was presumed that he had quills embedded in his abdomen.  Thankfully they were removed, and he began to recover.
Mahalo's stay at the vet would be longer, but soon she was reunited with her brothers.   Mike continued to update supporters, who contributed enough to completely cover all of their medical bills.
"From our friends and family …..From Texas to the UK……. I cannot thank you all enough. The outpouring of support from complete strangers is very moving… I humbly thank each and every one of you fine dog-loving folks from the bottom of my heart.
"Dennis was back at the vet today with Nestah, removing quills from his spine and cheeks. Vet bills are still accumulating and my friend is still not back to work. He is staying home to care for these animals. Please continue to share & donate where you can. I will continue to update on Mahalo and Nestah's progress.
"When I started this gofundme page I had no idea we would reach our goal let alone surpass it.  MUCH MUCH LOVE MY FRIENDS – Mike."