Travis Scott is a veteran.
He served for seven years, in Japan and Virginia, as a firefighter and emergency medical technician, during which time a severe injury — Scott broke his back and fractured his skull during a rescue training exercise — sidelined him for a while. He served another five years but retired thereafter.
"It has been a challenge to adjust from military to civilian life," Scott told the Wichita Eagle. "It was a culture shock, really."
He has since been diagnosed with PTSD, traumatic brain injury and military sexual trauma, for which he sees a mental health professional, but has struggled.
And so has Ty.
The two-year-old shepherd/husky mix was living in a high-kill shelter before being rescued by K9 for Warriors, an organization that rescues animals from situations including neglect, abandonment and homelessness, then trains them as service dogs.
Now Scott and Ty are inseperable. To the veteran, the dog is far more than a pet.
"Our bond goes through the leash," Scott said. "When I'm feeling anxious or depressed, he'll know and can help me cope."
Veterans, too, must go through training before receiving a service dog, beginning with a formidable application and and 18-month waiting period. Scott, as do all veterans going through the process, participated in Camp K9, a three-week training program down in Florida. During this process, he and Ty bonded, learning to become a team.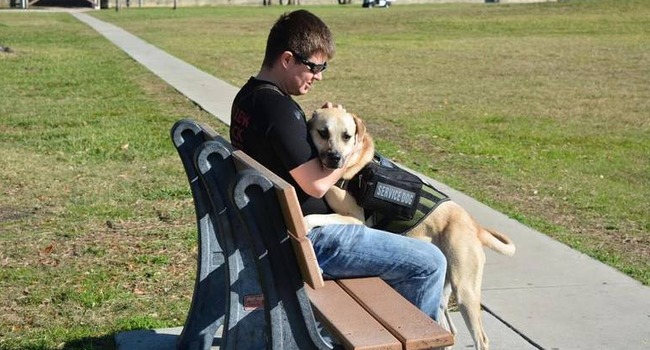 "The bonding I have done with my dog has given me a new sense of self," Scott said. "I needed a unique treatment tool to get me out of my rut, and he is that tool."
They graduated alongside 10 other warrior-dog teams, and then returned to Wichita, KS, to begin their life together.
"My emotions flow to him and he can recognize if I'm anxious or depressed or having trouble," he continued.
Trained to recognize and sense these signs, Ty will try to gain Scott's attention. The aim: distraction from the anxiety.
"He helps me cope with what I've had happen to me and he has my back," he said. "I know I have someone to look to."
The nonprofit organization provides service dogs to veterans at no cost.
"I can't say enough good things about K9s for Warriors," Scott said. "If you're a veteran and want to or need to perform better in your life, I greatly suggest K9s for Warriors. They want to help you get better."