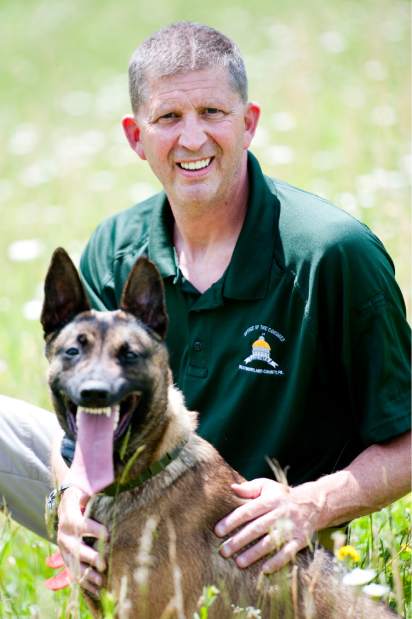 The Westmoreland County Coroner's office has a new member to its team.  Kai, a one-and-a-half-year-old Belgian Malinois, will assist the team in searches with handler and Deputy Corner John Ackerman.
Ken Bacha, lead coroner for the county, said Kai is specifically trained to assist them at crime scenes where minute traces of blood, hair, bodily fluids and human remains would be all but impossible for a normal human to detect.  For Kai and her super sniffer, this is no large task.
"Their breeds can detect trace elements that most humans cannot see or detect.  Their senses are really amazing," said Ackerman.  "We usually work alone.  She is a workaholic.  She's really machine-like."
Ackerman has been a deputy coroner for 11 years now, but has over 20 years of experience training and handling cadaver dogs.  He also has a position as an associate instructor with Law Enforcement Training Specialist Inc. for the last three years, and has more than 200 hours of training with the organization.  He's also been with the coroner's office and the Greensburg Volunteer Fire Department since the early 90s.
Kai will be replacing Hanna, another Belgian Malinois, who passed on the 22nd of December.  Ackerman was also Hanna's handler.
"It's hard to go from one dog to another.  You have nine years [of] experience with one dog and get to know her, then you have to get a new dog and start back at square one," said Ackerman.
Ackerman and his dog receive requests from all over the state for assistance.
Hanna's final search was back in September, when a Brookville man was accused of robbing and murdering an acquaintance during a drug deal gone wrong, then dismembering the body with a chainsaw.
"Hanna was able to locate some of the remains," Ackerman said.
Using fingerprinting technology, the body parts were identified and Michael Shugars is awaiting trial for murder in that case.
"Cadaver detection dogs help families in locating their loved ones and give them some sense of closure and peace," said Ackerman.
Kai is set to complete the full course of cadaver detection training this year.  She'll be learning how to detect the scent of human remains underwater, while she is either on the shore, or in a boat.