From Memorial Day (May 30th) to Independence Day (July 4th), Dog Bless You, a community created and led by filmmaker, Trustee of The Annenberg Foundation and founder of explore.org, Charles Annenberg Weingarten, will celebrate patriotism, and stoke community involvement in America by providing up to 100 service dogs to returning soldiers who suffer from post-traumatic stress disorder.
Put together in partnership with IAVA (Iraq and Afghanistan Veterans of America), –along with a variety of veteran and service dog organizations– the Dog Bless USA challenge grant aims to spread awareness about the healing role dogs can play in the lives of those suffering from PTSD while giving people a chance to participate.
The initiative will provide people with an easy way to show support, and provide users with a steady stream of American dog-themed content ranging from personal stories gathered from soldiers to video footage of dogs around the country. Organizers aren't asking for donations, but rather to show support by "liking" the Dog Bless You Page, uploading patriotic photos and videos, commenting and sharing personal dog-related stories. For every 5,000 "likes" the Dog Bless You Facebook community page receives, Explore.org will donate a service dog to a recent war veteran, up to 100 dogs or $500,000.
"Doctors, psychologists, and certainly veterans will all attest to the incredible benefits dogs bring to those suffering from the impact of war," said Paul Rieckhoff, Executive Director and Founder of IAVA. "And I'm sure during the course of this campaign, we'll see and hear some amazing stories from our brave service people whose dogs have been a prime source of salvation."
Dog Bless You is a place where dog owners and advocates share pictures, videos and personal stories while rallying around the role of dogs that are involved in important causes. Go to Facebook.com/exploredogs to participate.
"Dogs are serving this country unlike any other animal- from the battlefields of war, to the front lines of search and rescue to the ranks of police and fire forces across this country to the everyday person in need of a companion," said Weingarten. "This campaign is to channel the energy of the dog community into the gift of unconditional love and healing that only a canine can provide.  We want to raise awareness about the amazing role dogs can play in the lives of veterans and people who suffer from emotional and psychological damage- while giving everyone a chance to participate through a zero-cost contribution," said Weingarten. "The 'like' button is akin to putting your name on a card to those soldiers," he continued. "We're excited to foster a discussion among vets and dog lovers during the campaign."
I had a great chat with Charles Annenberg Weingarten this week, and asked him if he had a short term goal in mind. He said if they could reach 235,000 likes by July 4th to celebrate 235 years of American independence it would be great, and if enough of us go the extra mile to spread this around a little, that is an easily attainable figure.
So let's do just that. Tell a friend about this remarkable campaign to assist those who have given their all in the name of country. It's a cause we can all get behind, and all it take is a few mouse clicks to help.
[divider]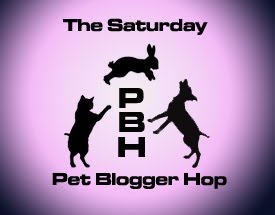 Happy Saturday, and welcome to another installment of the Saturday Pet Blogger Hop! You've found the right place to connect with other pet lovers. Whether you are a seasoned blogger, one who loves reading pet blogs, or if you're just thinking about starting your own blog – there is definitely something here for you. Acquaint yourself and enjoy – this is your resource, so use it as you see fit! Of course, you have to follow the rules, so let's get to that. Get those links in and have fun.
Link up your pet blog name and URL using the Linky Tool below. You only need to add your link once to be seen on all the Saturday Pet Blogger Blog Hop Linky Tools for that week. Note that if your blog is not pet related your link will be removed. Also note that only one post per blog is acceptable, and links promoting giveaways that are unrelated to the pet blogger hop will be removed. This is a community building exercise and not a promotional vehicle – please treat it as such.
Grab the "Saturday Pet Blogger Blog Hop" button on the right hand side of this site and include it in your Saturday Blog hop post so that your readers will know what is going on. *Note – posting is optional. Feel free to just link and follow.
Follow your co-hosts listed in the first 3 slots of the Linky Tool.
Follow as many other blogs on the linky as you'd like.
Take a moment to comment on the blogs telling them you're from the blog hop.
Follow back when you get a new follower through the Saturday Pet Blogger Hop.
Make friends and grow. ♥
*note – if your blog is hosted on WordPress please use this alternate code that will work without javascript.