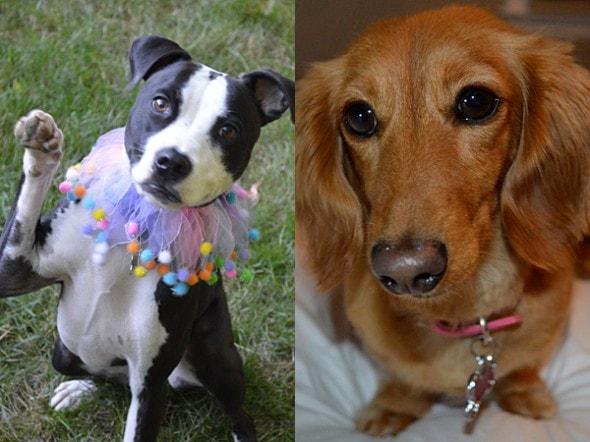 Anyone that has read any of the many stories we here at Life with Dogs cover regarding therapy dogs knows that miracles can happen, and sometimes all it takes is the love and affection of a dog to get you through.  Everything from soldiers returning from active deployment to dogs providing love and comfort to the elderly in a nursing home, dogs pretty much have it covered.  What if, the therapy wasn't just a one way street?  Can a dog itself benefit from being a therapy dog?  The answer as it seems would be a resounding YES!
The following is an editorial was submitted by one of our committed readers, and full believer in just how much good, for both sides, can come from therapy dogs.  Thank you so much for the story, and we agree, therapy dogs are great.
We hear so much about the impact pet therapy has on patients, nursing home residents and children.  Could there be another side to this story?  Can residents help rehabilitate the dog? Is the partnership greater than we ever expected? The answer is yes!
My father was suffering from Alzheimer's disease and he stayed with us much longer due to his dogs.  I saw firsthand how animals can dramatically increase the quality of someone's life.  So when my father passed away, my husband and I decided that was something we wanted to do in his memory.  As I thought about it, I wanted it to be more than the typical calm dog walking around for a pet (not that there is anything wrong with that).  I wanted it to be a show.  I wanted people to clap, laugh, get excited, ask questions, and I wanted them to remember us.  It was a tall order under normal circumstances.
Turns out I had two puppies with all kinds of issues.  One was a mini dachshund (Olivia Lee Longbottom), who was toy- and food-possessive and didn't really want people to come near me.  The other was a rescued pit bull mix who was afraid of everything and who was picked on a local dog park.  It was clear we had a mountain to climb, but I wasn't giving up.  I researched and found a private trainer and local training club to assist in getting us on track.  I trained formally twice a week with each dog and followed through with several 10-minute daily sessions on my own.  It came time for their therapy dog test.  It was two parts, temperament and obedience, and it would last three hours.  They both passed!
We noticed Vegas, our pit bull, was still afraid of things around the house and getting worse – plastic bags, airplanes, lawnmowers, the cat, a toy etc.  I was always asking 'how can I help her?'  What can I do to build her confidence?  The answer wasn't how but who, and it was staring us in the face.  The residents were helping Vegas and Olivia as much as we were.  It is a mutually beneficial partnership one providing the other with whatever it is they need.  It became clear when I was going to take an elevator and used the wrong code.  The alarm was sounding off and a nice young man came by with his cleaning cart to help. Not only did he help, but he got in the elevator with us.  I didn't even realize it until I looked down, but Vegas was fine.  She was calm and confident and knew she was on the job with people waiting just round the corner.
Fast forward to today.  Olivia is three and will sit on a resident's lap without any issue, as long as she is getting a treat, of course.  Vegas is two and couldn't be more excited to get in and see all the people. They have each earned a therapy dog title from the AKC and Vegas holds her Advanced Trick Dog title.  Together they put on a 15-20 minute show followed by a meet and greet.  The residents love it when little Olivia jumps over her much larger sister.  The results include residents standing up and yelling, "Vegas and Olivia are here.  I need to get a good seat!"  We see residents bringing their family members to our shows.  Word spreads through the facilities and if we are walking through the halls people we've never seen will say, "Are you here for your show?" or "This must be Olivia, we heard about you."
The power of compassion, dedication and love can truly change and enrich our lives and those around us.