Visiting my parents and serenading my boy Franky on the old piano I grew up playing. He prefers Coldplay (and frequent pets and kisses).

?

*For licensing/commercial usage, please contact [email protected]

Posted by Luke Westerman on Sunday, May 7, 2017
Music is a universal language that can bring completely different groups with completely different languages together, and sometimes even understand each other through it.  Well, for Franky the pit bull and his musically talented human dad, Luke Westerman, music is all of that and so much more.
Westerman says that Franky loves to be serenaded on either the piano or guitar, and it's what the two have really formed a solid foundation for their bond.  According to Westerman, Franky has been into music ever since he was a little pup.
"Franky has always loved when I sing to him or play an instrument," Westerman said when talking to The Dodo.  "He's been doing this since he was a pup.  He just melts into a deep rest while enjoying being serenaded."
All one has to do is check out one of the adorable videos of the pair.  Franky gets as close as he possibly can to Westerman, most of the time directly on his lap, and seemingly drifts off to whatever possibly happy place a doggy-brain could conjure up.  There's even been a few times where Franky became so relax, he straight fell asleep!
"He requires kisses and pets throughout, and he has also been known to fall asleep on my lap while I play guitar or piano for him," Westerman said.
Franky may have a pretty great life now, however things weren't always that way.  He was almost a casualty of Hurricane Gustav back in 2008.  He was thankfully rescued, and eventually was adopted by Westerman and his girlfriend.
"After [Hurricane] Katrina and the devastation there and all the displaced dogs, we knew we wanted to rescue a dog from that area before he became another victim," Westerman said.  "Once we saw Franky's photo we knew he was the one, so we had him flown from New Orleans up to Columbus — which we only did because time was of the essence due to the incoming hurricane."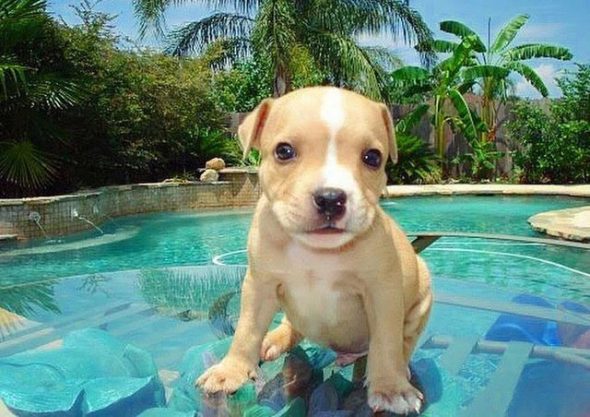 Now, Franky and Westerman get to hang out together and jam just about whenever they feel like it.  Which is to say, as often as canine-ly possible!  Franky could not have landed in a better place, and to prove it, one needs only to take a look at the smile on Franky's face.