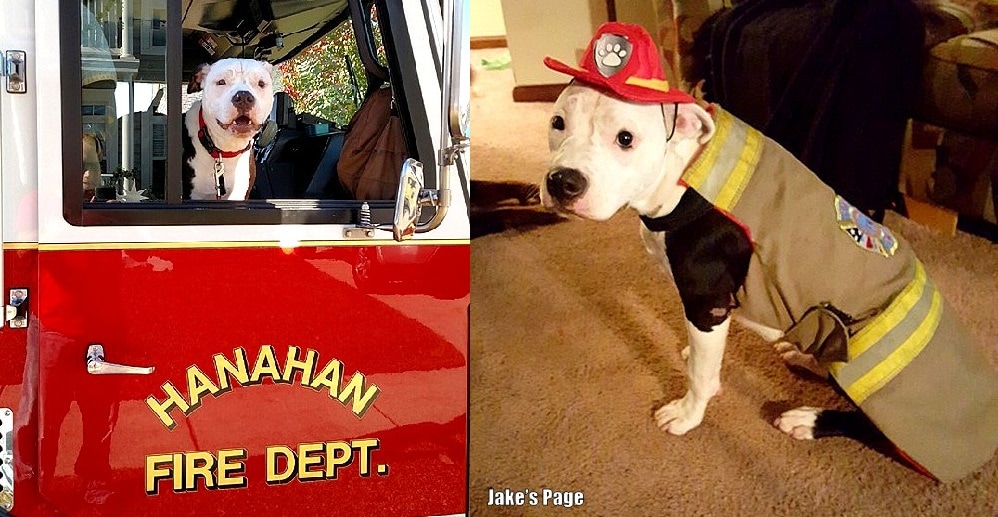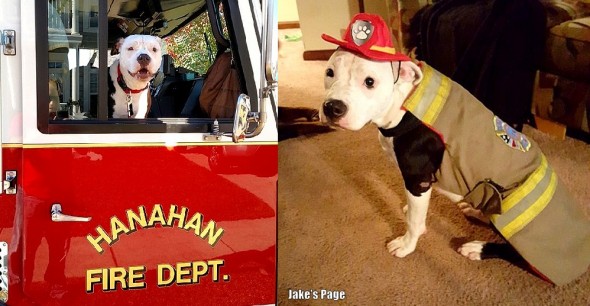 Jake was only a few weeks old when he was badly burned in a house fire and left at a vet by his family.  But his story has the best ending.  He was adopted by the fireman who saved his life, and now he has become an honorary firefighter himself.
Last May, firefighter William Lindler of the Hanahan Fire Department in South Carolina had been doing some yard work when he saw smoke coming from the yard of a neighbor.  He grabbed his fire gear and rushed across the street.  The neighbors yelled that their pit bull puppy was still inside, so Lindler braved the smoke and flames to save him.
The puppy was taken to Animal Medical Clinic of Goose Creek, and was abandoned there by the family.  (Perhaps they were unable to pay the extensive medical bills.)  He suffered burns on nearly 75 percent of his small body, and would need someone to care for him.
So Lindler decided to adopt him, and he called the little guy Jake.  Right from their first night together, they were inseparable.  He's definitely his daddy's boy.
"He's spoiled already," Lindler told ABC News 4.  "The first night at the station he actually slept in the bunk with me."
Jake quickly adapted to life as a Lindler.  He loved pulling puppy shenanigans on his big brother Rico, but he also was happy to snuggle with him.  And there are big plans for his future.
"I would honestly like to get him certified to be a therapy dog for burned children," Lindler explained.  "I would like them to know that no matter how bad it is, this little guy beat the odds being burned as bad as he was at four weeks old and he's still beautiful."
He would need to wait a year to begin training.  But in December he moved closer to accomplishing this by becoming an honorary firefighter for the city of Hanahan, and he visits schools to help kids learn about fire safety.  There's a Facebook page for him called Jake's Page, where you can see all his adorable baby pictures as well as his current progress.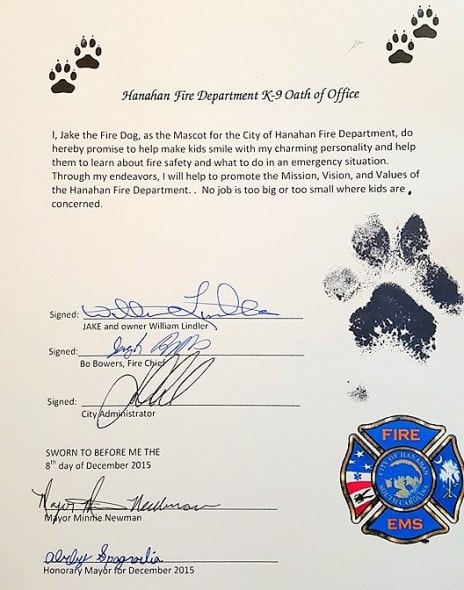 A commenter on one of his photos, Tracey Fulton See, said that he should have something that says "The only thing I fight is fires."  He is a testament to the fortitude and versatility of pit bulls.