WRCBtv.com | Chattanooga News, Weather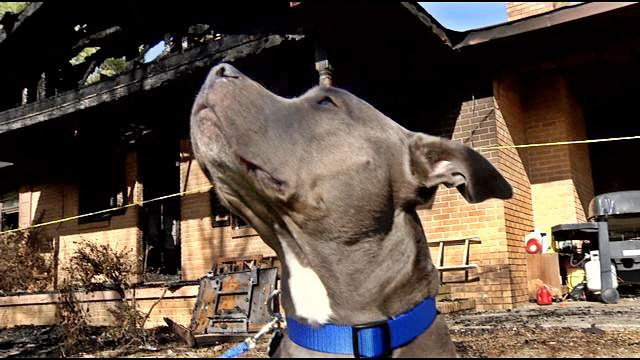 A Georgia family is alive and well today after surviving a fire that destroyed their home last Sunday night. The only reason they made it out alive is because of their pit bull Bella.
Jennifer Ross and her mother-in-law were both asleep when Bella started to whine. It was 4 a.m. and Ross thought Bella was just bugging her to go out.
"It sounded like she wanted to go out," said Ross. "I was like, 'Bella, let me sleep and I'll let you out in a little bit."
Normally Bella would listen and go back to bed, but this time she refused to let Ross go back to sleep.
"She jumped on me, then jumped off the bed and went to the door," said Ross.
Ross finally got up and went to the door and when she opened it black smoke came pouring in. Bella then led Ross, her mother-in-law and the family's other two pets to the front door and safely away from the fire.
"Had it not been for Miss Bella, we never would have made it out," said Ross.
Their home was soon engulfed in flames and they lost just about everything, but the family is thankful that they are safe thanks to Bella.