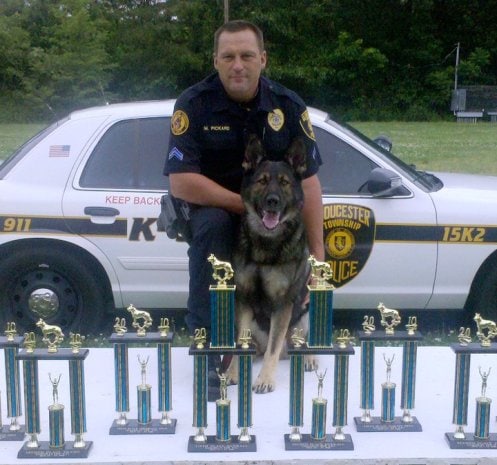 Residents of N.J. are mourning the loss of Shultz, a police K-9 killed in the line of duty Tuesday evening. Police report that at 7:00 Tuesday evening, two men held up the Lucky Dragon Chinese Restaurant in the 400 block of East Church Street in the Blackwood section of Gloucester Township. Reports say that they assaulted an employee, stole cash and fled on foot.
Shultz picked up the scent of one of the suspects behind the restaurant. A half mile away, the German shepherd caught up with a suspect on the shoulder of Route 42. Somehow, the suspect got a hold of the dog and threw it into oncoming traffic. The dog was killed instantly. Police spent hours searching for the suspects with a state police chopper in the air and patrol units on the ground, but they remain on the loose.
In the meantime, a memorial fund has been established. Those who wish to donate may to so at the following address:
"K9 Shultz Memorial Fund"
1261 Chews Landing Road
Laurel Springs, NJ 08021
To show your support and receive updates, please visit the Gloucester Township Police Facebook page.