Police officers in Costa Verde, Peru, rescued a 5-year old street dog that was trapped on a more than 80 feet tall cliff near the beach. The rescue took several hours, and at times rescuers believed the canine would fall to his death. Luckily, the desperate dog was safely rescued and is now being cared for at a local animal clinic.
The rescue happened by chance. Police officers were present at Los Yuyos beach getting ready to give a televised interviewed when they realized there was a dog trapped on the cliff.
Instead of showing an interview, the news program broadcasted a live rescue mission.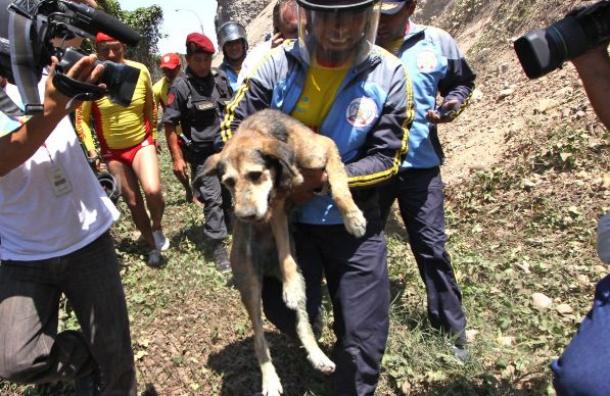 Using ropes, a group of trained officers tried to descend from the cliff's top to reach the dog. However, the ropes they used were not long enough.
When the stray saw people approaching him, the stranded dog panicked and tried climbing down on his own. However, this proved to be difficult and life-threatening since the terrain was very unstable and the dog could have fatally injured himself on the fall.
Officers reacted quickly and opened a tarp at the bottom of the cliff. The hero rescuers hoped to catch the stray in case he lost his footing and tumbled down.
That is exactly what happened, but luckily the tarp was in place to save the dog's life.
The canine was taken to a local veterinarian clinic. He suffered from dehydration, and had minor cuts and scrapes, but he is expected to make a full recovery.