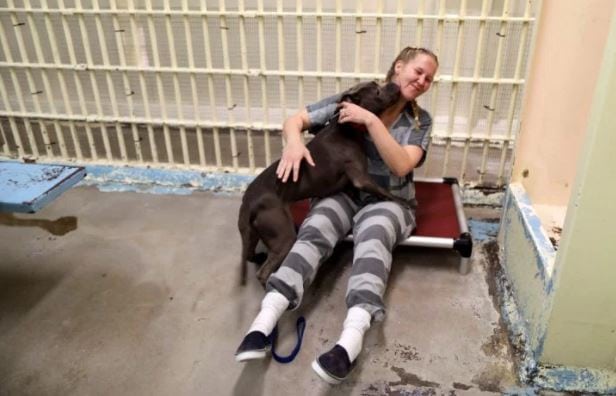 ————————————————————————————————————————————————————————————————————
The Maricopa County Sheriff's Office Animal Safety Unit (MASH for short) used to be a men's prison.
Now it's a haven for animals to learn love and trust, and a place for inmates to not only learn a skill but enjoy therapeutic time with the animals.
MASH runs a program wherein the inmates are charged with the care of dogs who have been rescued from abusive situations. The dogs find comfort here; the prison environment is preferable to the shelter, and the inmates, too, experience joyful moments during their time with the furry residents.
Six days a week, women at the prison are moved to the shelter as part of a 30-day program. Housed in the shelter, dogs, cats and horses care cared for until they find forever homes.
The cells here have been transformed into rooms that house the dogs, and each pup gets his or her own. These "dog suites" also have humorous names: Ruff Road, 2nd Chance, Purr Lane and Bow Wow Way.
————————————————————————————————————————————————————————————————————
"I get so much out of it, probably more than the dogs do," Kristina Hazelett, one of the women in the program, told REUTERS. "It's very therapeutic for me as well, not just them, which was an unexpected, pleasant surprise."
She, along with the other women in the program, had to go through rigorous interviews and screenings before they were allowed to start looking after the dogs. Part of the program entails working alongside professional animal techs, learning how to prepare the dogs for adoption.
Bonus: this helps prepare many of them for jobs working with animals when they've finished serving their time.