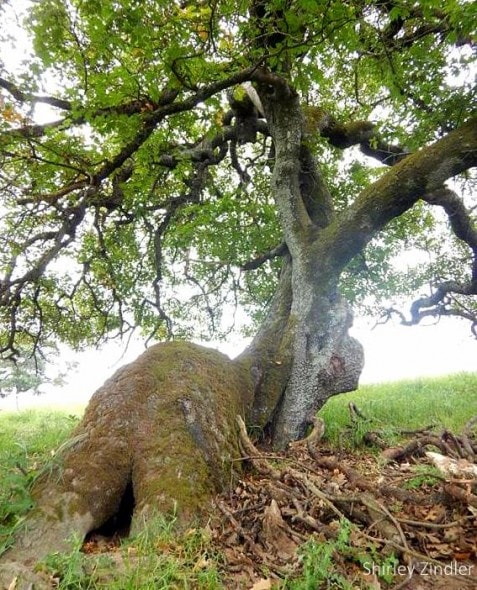 When animal control officer Shirley Zindler received a call about a dog living in a tree, she did whatever she could to get the emaciated Chihuahua out.  After several hours, she finally caught her, and has now taken little Boo into her home until she can find her a good family.
A worried neighbor called Sonoma County Animal Services to report that a tiny dog had been living inside a nearby tree for at least a week.  When Zindler arrived on the scene, she investigated the tree, but didn't see the dog.  It wasn't until she got on her belly and shined a flashlight into the hollowed out trunk to find "a pair of terrified eyes staring back."
The animal lover and author of The Secret Life of Dog Catchers spent the next few hours trying to coax the dog out.  She tossed treats in, hoping she could gain the dog's trust.  She knew she'd have to do it quickly, for the night is dark and full of terrors.
"The coyotes and other hungry wild creatures nearby would also see the little dog as a meal if we didn't get her soon," she wrote on TheBark.com.
Finally, after what seemed like an eternity, the reluctant dog approached Zindler.
"I reached in through the hole and she was so hungry that she finally started gobbling treats out of my hand," she said.
The dog was taken to the shelter and named Boo after Harper Lee's To Kill a Mockingbird character Boo Radley, who would leave trinkets for the Finch children in a tree knot near their homes.
Though the one-year-old dog weighed only seven pounds and had visible ribs and hips, her globose tummy indicated that she was pregnant.  She went into labor a few days later, delivering a stillborn pup.  Emergency surgery was performed to see if the rest could be saved, but none of the puppies survived.
The poor girl has already been through so much in her short life, and is very trepidacious around people.  To get her feeling comfortable and warmed up to people and other animals, Zindler brought her home.
"Boo's progress is very slow but she's a little better each day. It's going to take a long time for her to overcome her lack of early handling, but dogs are social creatures and amazingly adaptable," she said.
"Every tiny improvement or slight wag of the tail is a victory, and we will take all the time she needs to recover and find a forever home."
To keep up on Boo's progress, check out Zindler's Facebook page, The Secret Life of Dog Catchers.