I didn't want anyone to miss this in the rush of the holiday weekend. It looks like a great choice for the kids, and I suspect that quite a few parents will be watching along with them.  🙂
One lovesick dog must single-pawedly save his family's Christmas vacation in the ABC Family Original Movie, The Dog Who Saved Christmas Vacation, premiering Sunday, November 28th (8:00 – 10:00 PM ET/PT), as part of ABC Family's "Countdown to 25 Days of Christmas" programming event. A joyous holiday sequel to last year's The Dog Who Saved Christmas, the film stars Paris Hilton in her first voice-over role as French poodle Bella and Mario Lopez as lovable Zeus.
Also starring in the movie is Gary Valentine (The King of Queens), Dean Cain (Lois and Clark: The New Adventures of Superman), Elisa Donovan (Clueless), Casper Van Dien (Starship Troopers), Joey Diaz (The Longest Yard), Kayley Stallings (Monk), Brennan Bailey (My Sister's Keeper), Mindy Sterling (Austin Powers), Catherine Oxenberg (Watch Over Me), Carlson (Young Little Liars), Adrienne Barbeau (Carnivale).
• • •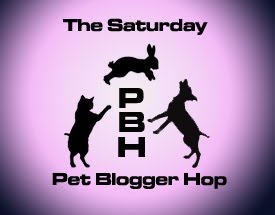 Welcome to another installment of the Saturday Pet Blogger Hop! You've found the right place to connect with other pet lovers. Whether you are a seasoned blogger, one who loves reading pet blogs, or if you're just thinking about starting your own blog – there is definitely something here for you. Acquaint yourself and enjoy – this is your resource, so use it as you see fit! Of course, you have to follow the rules, so let's get to that. Get those links in and have fun.
Link up your pet blog name and URL using the Linky Tool below. You only need to add your link once to be seen on all the Saturday Pet Blogger Blog Hop Linky Tools for that week. Note that if your blog is not pet related your link will be removed.
Grab the "Saturday Pet Blogger Blog Hop" button at the upper left of this blog and include it in your Saturday Blog hop post so that your readers will know what is going on. *Note – posting is optional. Feel free to just link and follow.
Follow your co-hosts listed in the first 3 slots of the Linky Tool.
Follow as many other blogs on the linky as you'd like.
Take a moment to comment on the blogs telling them you're from the blog hop.
Follow back when you get a new follower through the Saturday Pet Bloggers Blog Hop.