Jessie was left chained up one week, with her five puppies, after her owner went on vacation for five days. Someone was apparently supposed to be caring for her in the owner's absence. However, for the first three days, no one came to check on her or her puppies. In between the couple of times they did visit, the chain became twisted around her paw and tore the skin off, all the way to the bone, ripping off the end of her paw!
To make matters worse, Jessie had already lost part of her paw on the back leg in some other previous mishap. When the woman returned from her vacation, she decided that she was unable to afford treating the wounds and so Jessie was forced to hobble around on a painful, bloody stump for several days until a friend referred ARFHouse to the owner.
Fortunately, the woman was willing to surrender Jessie and her puppies when ARFHouse told her that they could treat Jessie.  Jessie was immediately seen by a veterinarian, where it was recommended that her paw be amputated since there was no skin left to cover it and she was in a great deal of pain. It also appeared that Jessie and her puppies were malnourished, as Jessie had very white gums and her spine was deformed, while her puppies were continuing to nurse beyond the healthy age, likely as a result of not feeding the puppies.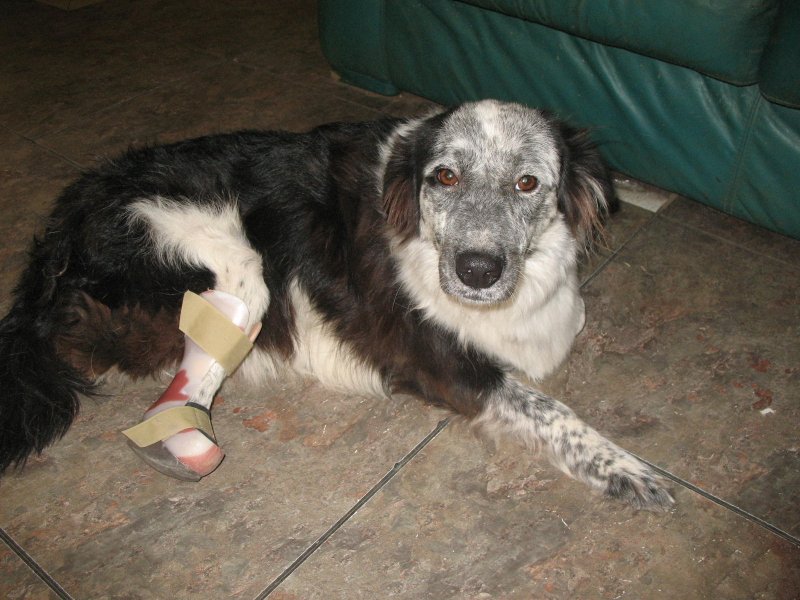 Jessie's surgery went well, but because of the ½ a paw left on the back leg, it was clear that Jessie needed something extra.
Thankfully, Hanger Prosthetics came to the rescue! They designed a little prosthetic device which fits on the remaining leg, giving Jessie the ability to walk around as a three legged dog.
Jessie is currently one of the house dogs at ARFHouse, receiving the royal treatment that such a gentle, sweet natured dog deserves. Her puppies all looked like Australian Shepherds and were adopted soon after arriving.
———————————-
ARFhouse is a care-for-life canine sanctuary, caring for 280+ dogs on 45 acres in north Texas.  The facility's mission is to rescue abused and/or abandoned canines and give them safe haven in a clean, secure environment until they are adopted.  Those that aren't adopted have a place at ARFhhouse for life