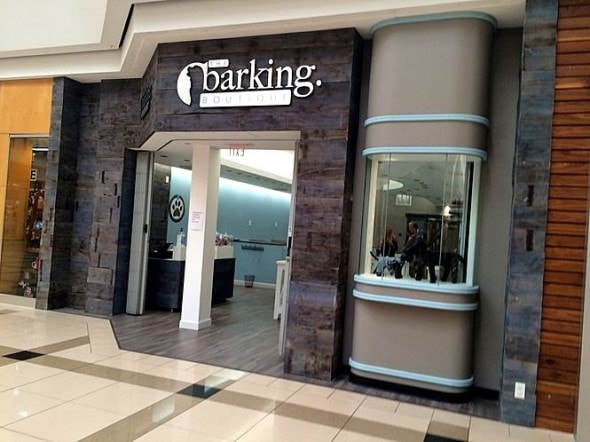 After only being open for four days, the Woodland Mall in Kentwood, Michigan canceled the lease of a pricey pet shop called the Barking Boutique.  An online petition was flooded with signatures, and dozens of shoppers threatened to boycott the mall if the shop remained open.  The owner listened, and gave the store three days to close its doors and vacate the premises.
Dozens of people complained on the mall's Facebook page, and the petition to have to store put out of business quickly garnered over 28,000 signatures.  The petition's creator, Chastity Huff, states that shop owner David Boelkes had a lease revoked by The Lakes Mall of Muskegon, Michigan back in April for his first planned location of the Barking Boutique.
"I'm in shock," said Cathy Bissell, founder of the Bissell Pet Foundation.  "I'm so surprised that a pet store would open in Woodland when we have done so much to educate people about rescue and shelters, and choosing adoptions first."
Boelkes is now facing personal bankruptcy after sinking around $70,000 into his business.  The mall originally stated that they would stand by him, but later reneged on their agreement after listening to the opinions of their shoppers.
Shoppers and animal lovers denounced the designer dog dealer for bolstering puppy mills, though Boelkes claims he doesn't acquire his dogs from mills, and that he personally meets with the breeders, none of whom have ever violated any laws, and that they and the puppies pass USDA standards.
"None of the breeders I work with have had any violations.  The dogs come with a five-generation pedigree and our store is inspected by the AKC," he said.  "There is a huge lack of quality puppies for West Michigan and Grand Rapids.  That's why we chose Grand Rapids. You can't really find a good (purebred) puppy."
However, the US government has notoriously low standards for animal breeders, and only the absolute minimum care must be provided to dodge penalties.
"Despite what the Barking Boutique says, USDA regulations simply are not enough to ensure that the dogs Barking Boutique is selling come from humane breeding operations. The USDA only has 120 inspectors nationwide, for more than 10,000 license holders," the Humane Society of West Michigan said on Facebook.
"And even then, inspectors have to abide by the outdated 1966 Animal Welfare Act as the law that governs these breeding operations. The law simply does not cover the treatment of animals in a sufficient way. For example, a breeding dog can live its entire life living in a wire cage and that is totally allowable under the law."
Additionally, regardless of the puppies' origin, the fact remains that they come from breeders.  What upsets many people more than that fact alone is that thousands of dogs perish in shelters every single day because of breeders and pet shop owners.
"These activists created a social media backlash, based on rumors, completely ignoring the facts," Boelkes complained in a statement. "This action reinforces the shelter cartel's monopoly on dog retail, and their common practice of trafficking dogs into Michigan from southern states and other unknown origin."
The "shelter cartel??" "Trafficking?"  Laughable sentiments, coming from a young man who planned to make money by selling designer dogs for thousands of dollars each.  Transporting dogs from high-kill shelters in the South to give them a chance at adoption does not a trafficking cartel make.
Though it was made abundantly clear that his presence was undesired, Boelkes foolishly chose to go ahead and try to open a second store in yet another western Michigan mall.  He took out a sizeable bank loan and cadged his mom to take out the rest of the funds needed for white wooden crates from her retirement fund, and now he's destitute.
A GoFundMe page was set up by a close friend of his to help him recoup his financial losses.  However, only a paltry amount has been raised, and most of the commenters are of the opinion that what goes around comes around, that he doesn't deserve a penny, and that donations would be better spent on more genuine causes, such as shelters and rescue groups trying to save the lives of animals in need.
According to the fundraiser page's writer, Angel Jimon, "22-year-old founder, David Boelkes, opened the Barking Boutique to make pet adoption more transparent and accessible to all people."
However, the puppies in Boelkes' shop were not available for adoption, but for purchase with a hefty price tag of $1,600-$4,000.
Incidentally, later on in the plea Jimon states, "All families adopting from the Barking Boutique are given full visibility of the origin and pedigree of their puppy. They are given a full health and medical background, as well as comprehensive background on the breeder and puppy's parentage. David personally met with many of his breeders to ensure and guarantee that the puppies sold in his store were raised humanely and ethically."
So, what a load of crap.  Jimon and Boelkes himself both make the store owner out to be some great champion of animal rights, but if he was really that concerned with the plight of animals and making "pet adoption for transparent and accessible," he would have given his money to a shelter or rescue group instead of obtaining puppies from breeders and charging customers a fortune for them.
Quel dommage!