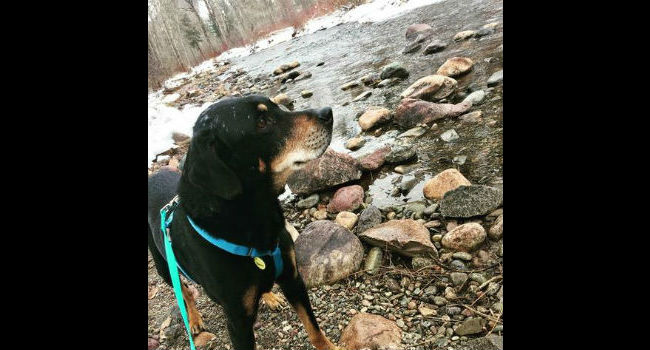 ————————————————————————————————————————————————————————————————————————————–
We love all the happy-feeling stories we're fortunate enough to bring you, but these adoption updates are the best.
Not long ago, we featured beautiful Boomer as a SENIOR SATURDAY pup who was still looking for his forever family. We are DELIGHTED to report that this is no longer the case!
Boomer's new family — while they prefer to remain out of the spotlight and let it shine on their new pupper — is over the moon with happiness according to McKenna Cramer of the Humane Society of Western Montana.
"He's doing great!" she told Life With Dogs.
Here's what his adopter had to say: "Boomer loves eating, treats, taking walks and napping. We learned that he knows several tricks including fetch, sit, shake and speak … and he loves walking Missoula's parks and trails. He seems very happy with us in his new forever home."
His new family also reports he's learned a few new tricks since coming home, which puts to bed that myth about old dogs!
Why don't you consider adopting one, as well? We're sure you could teach one another many things. 🙂