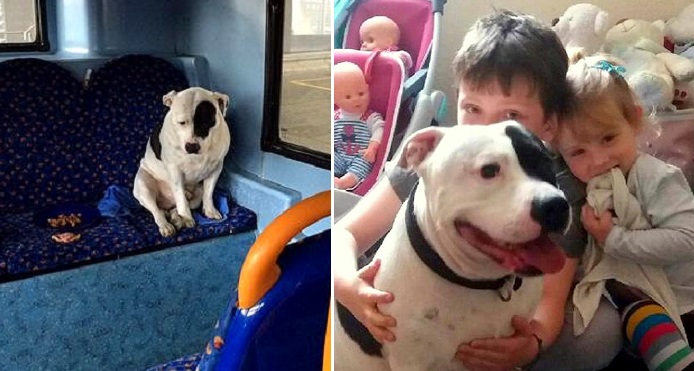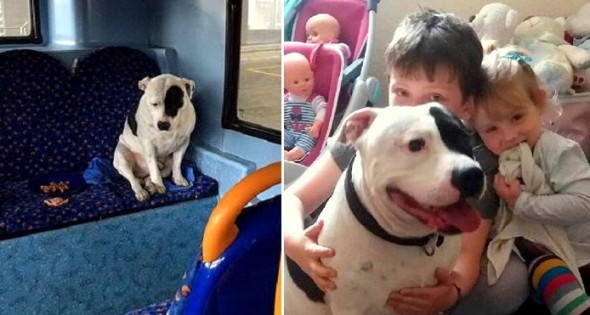 A couple of days ago, we told you about a pit bull who was so distressed at having been dumped on a London bus that he refused to budge and spent the night there.  Exactly what happened to him is a mystery, but most importantly, he has been returned to his incredibly worried family.
Driver Amos Paul Mak saw the dog board with two men, but no one took him with them, and he made it to the station alone.  He was confused and terrified, and wouldn't get off the bus, so he spent the night on it at the station.  Amos called him Buster.
"I came back at about 1am and the dog was still on the bus, but I wasn't able to take it home with me. So I made it comfortable and stayed with it for 15 or 20 minutes and it just didn't want to leave the bus," Amos explained.
"I could tell the dog was starting to become more and more nervous – it was shaking as I was stroking it. But it seemed like it was quite switched on and it seemed like a smart dog.  Because the bus had terminated at Stratford, the controller took the vehicle back to the yard with the dog still on it.
"I offered to take the dog home, but I wasn't able to because if it had bitten me, I could have sued the company.  The dog then stayed on the bus overnight because it didn't want to be moved."
But now he has been returned to his mom, Paulina Rybak, and her children.  She told the Standard that he went missing while out on a walk on Thursday.
We took him outside and after few seconds, we couldn't see him. We started looking for him but couldn't find him.
"On Friday, in the morning, I went to my vet and told them I lost my dog and they told me to call Newham Council.
"They said: 'When we find the dog, we will let you know.' But we ended up finding him on the Evening Standard website.
"I was so happy I started crying. I thought we would never see him again."
The dog's name is Boston, and Paulina has had the four-year-old since he was just a wee puppy.  Her children, Filip and Zofia, were heartsick when he disappeared.  She believes Boston wandered off and was then taken onto the bus.
"I felt very, very sad because he is part of our family.
"My children were very sad. My boy was crying and my daughter was as well. Now they are very happy and are with him now."
Amos is thrilled that Boston has made it home safely.
"I am genuinely pleased Boston is home and I will let all the staff at Stagecoach, who helped keep him comfortable and stress free, know.
"My colleague Benji stayed working for a few hours after his shift unpaid to try and find a place to take him, Leigh Anne on the counter kept phoning all night to try and get him taken in somewhere and Liezel constantly kept an eye on and gave Boston hugs throughout the night."