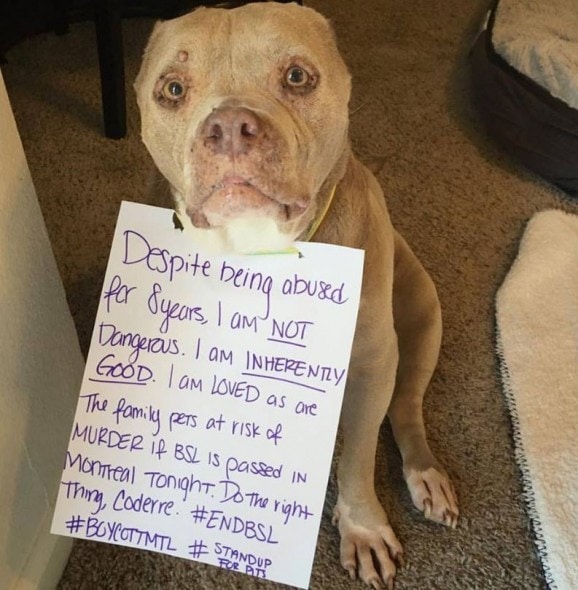 As of Wednesday, it was decided in the city of Montreal, Quebec, Canada that the pending breed specific legislation against pit bull dogs in the city has been suspended indefinitely!  After much work by the citizens of Montreal and all over the world really, the government FINALLY listened to its people.
"The fight is far from being over, but we are very pleased with this first victory," Sophie Gaillard, a lawyer for the Montreal SPCA, said in a press release.  "We are particularly delighted to be able to continue finding adoptive homes for all of our healthy and behaviorally sound dogs, regardless of their physical appearance."
While blanket legislation has been staved off for the moment, a new battle begins as city officials and animal welfare groups try to decide on whether pit bulls should be outlawed in all 19 of the city's boroughs.
"A city has the right to decide on its territory how to best protect it citizens," Montreal mayor Denis Coderre told reporters after Wednesday's decision.
To see our first coverage of the BSL in Montreal, click here.  To see the second story, click here.  Be sure to stay tuned to Life With Dogs for more information as it's released!