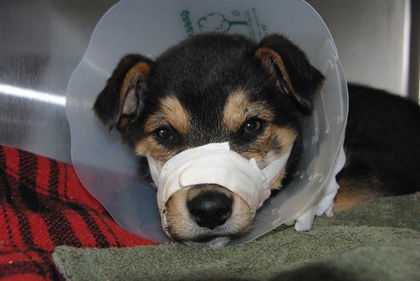 Several months ago paramedics in Calgary, Alberta came to the rescue of an abused and abandoned puppy named Rufus. Now fully recovered Rufus is going home with the paramedic that saved him.
When the paramedics found Rufus he was in bad shape. His jaw was broken in three different places and had a bad infection. Paramedics took Rufus in their ambulance to the Cochrane and Area Humane Society.
Officials there believe Rufus' injuries come from being kicked in the head. In order to recover  he had to have emergency surgery on his jaw and then have it wired shut to heal. While Rufus recovered from his surgery and abuse one of the paramedics agreed to foster him.
This month after fully recovering and receiving necessary socialization Rufus was ready to find his permanent home, but it turns out he already had found it. The paramedic who was fostering Rufus wanted to keep him.
"I didn't think that was the intention at first, but it came to 'we've had him this long, there's no way we can give him up,'" said Cheryl Wallach, spokeswoman for the Cochrane and Area Humane Society.