On Easter weekend, Vancouver Island Dogs Rescue Society received a call about a very sick puppy that urgently needed help.
When Thomas entered their care, he was brought immediately to a veterinarian. He had only 20% of his fur left on his sore body due to a severe case of Demodectic mange that had ravaged his skin. Open sores were oozing all over and his vision was poor due to the infection. Even his ears and nose were feeling the itch and burn of the bacterial infections that had riddled his sickly body!
On top of the skin infections, parasites were found all through his digestive system, he was dehydrated and he was severely underweight. Basically, the vet estimated that he had two to three weeks to live.
It has now been one month since Thomas arrived. He has received a month's worth of love and care from his amazing foster mom; one month of scrubs in the bath with the incredible Kimberley Matalas "Feel Better" pet products, and one month of incredible veterinary care that he has received from Chase River Veterinary Hospital.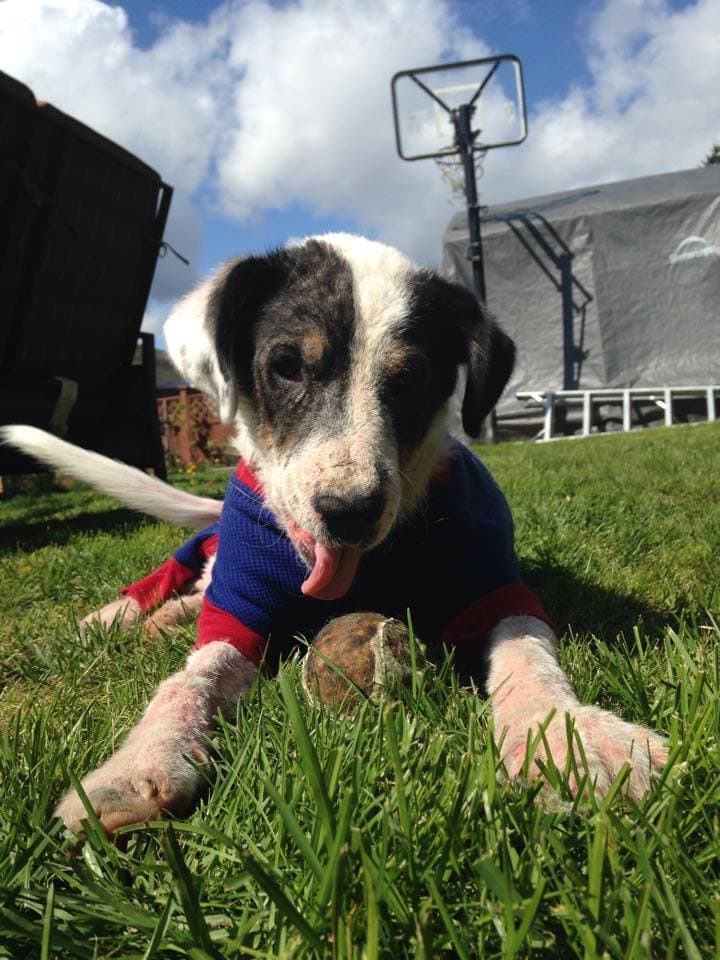 It is only because of the incredibly generous donations of time, products and support that Little Thomas can even be introduced to you!
Though he is much happier and well on his way to recovery, his first few weeks were no walk in the park. Thomas was in a lot of discomfort and, due to his suppressed immune system, was forced to live in an isolated world.  Even though he has made it over many hurdles, it will still be many months before he is strong enough to even receive shots.
Thomas will continue to have medicated baths every other day as his skin heals. The amount that he has already progressed has stunned the veterinarian.
Though his first month at Vancouver Island Dogs Rescue Society has been one of discomfort, through it all he has kept a very loving personality. He is his foster mom's shadow, happy and content to have his ball thrown to play fetch and a total cuddle bum!
After the first few weeks of isolation, he also now has energy to burn playing with his foster brothers and sisters.
As you can imagine, Thomas's veterinary care has been very costly and it is only thanks to generous supporters that he has reached this point and will continue to recover.
If you are interested in supporting Thomas or other dogs like him, feel free to visit Vancouver Island Dogs' website, attend events or subscribe to Modern Dog Magazine in their name. All funds go straight to the dogs!
—————————-
Vancouver Island Dogs Rescue Society works to: rescue dogs in need; rehabilitate, foster, train, put up for adoption and find homes for rescued dogs;  provide pet ownership education; and provide support for new dog owners and foster dog parents.