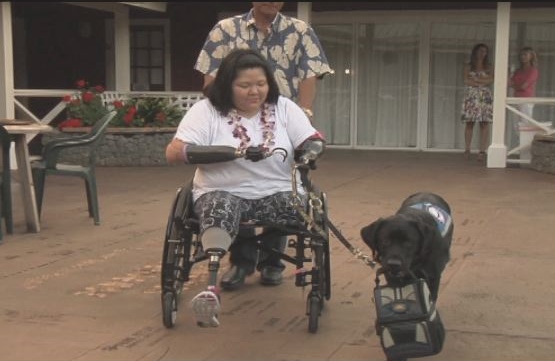 A woman named Summer is one of six people on the island of Maui to recently graduate service dog training with their new companions.
"We match dogs with their partners based on personality and Summer is such an intelligent, hard working and capable young woman that she reminds me of a human version of Trooper," said Mo Mauer, of Assistance Dogs of Hawaii.
Summer, a woman with two masters degrees, was working for the Department of Defense in southeast Asia when she contracted bacterial meningitis. It claimed the ends of all four of her limbs, but could not take away her vibrant spirit.
After spending two years in a hospital, Summer was paired with a trained service dog from Assistance Dogs of Hawaii in Makawao. She and Trooper just graduated after undergoing an extensive training session.
"It's combined with written exams as well as practice exams where you learn about dog behavior and dog psychology and all the different commands and skills that your dog has," Summer explained.
The two-year-old dog knows over 100 commands, all of which help Summer complete everyday tasks.
"He also turns lights on and off, closes doors, opens doors," Summer noted.
But Trooper is more than just a service dog – he is also a companion, providing comfort to his new friend.
"Trooper has a very sweet and calm personality," she said.
The nonprofit organization is able to provide disabled people with service dogs for free.
"They do great work and these dogs are top quality dogs and it takes a lot to train them both financially and emotionally," Summer concluded.