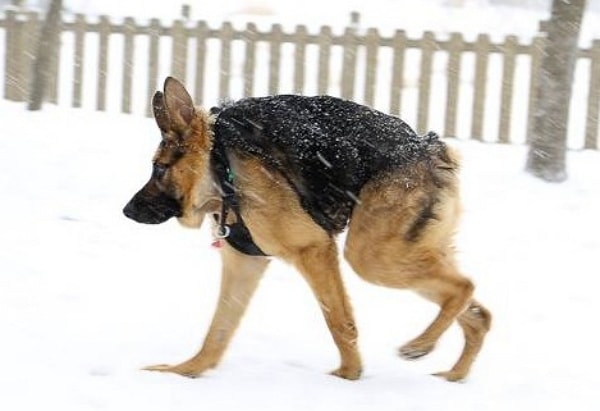 _______________________________________________________________________________________
_______________________________________________________________________________________
Some months ago, we shared a story about Quasi Modo, who had been named Ugliest Dog  in the World at the Sonoma-Marin Fair in Petaluma, California.  While beauty is certainly in the eye of the beholder, the reason for Quasi's body length to be so disproportionate is due to his having a rare disease called Short Spine Syndrome.  Enter another Quasimodo, with the same condition, except he is a rescue who has already development a fan base.  Both Quasi's are two of fourteen known dogs with the affliction.
Quasimodo, is a German Shepard, about 4 years old, a stray found in Kentucky.  He was taken to a local non-profit and then transferred to Secondhand Hounds via Mobile Mutts Rescue Transport.  He is currently in a loving foster care home, enjoying his life with his foster dog brothers and sisters and the occasional cat.
X-ray of Quasimodo's spine
_______________________________________________________________________________________
In an article on PetMD.com that talks about Quasimodo, Dr. Steve J. Mehler, DVM, DACVS, a staff surgeon at Hope Veterinary Specialists in Malvern, PA, said with regard to what Short Spine Syndrome "Typically, the lumbar spine slopes downward towards the pelvis and the tail is often in a corkscrew appearance. Because the limbs are often normal length, the patient will appear to be compressed in nose to tail direction but maintain a relatively normal height."  There may be missing ribs involved, as well as related spinal chord issues, but these dogs can live normal lives, particularly when surrounded by loving people, as Dr. Mehler indicated what the case with Quasimodo.
_______________________________________________________________________________________
The wonderful thing about dogs like Quasimodo and Quasi Modo, is they bring heightened awareness to animals with special needs who are often looking for a forever home.  While it may be true that some will have more challenges than others, often requiring medical or other assistance and care, the rewards for bringing a dog or cat into your home will be boundless.  If you are considering adoption or fostering, please check with your local animal rescue or shelter.  There are so many animals just waiting for someone like you to love them.