Christian Shenouda was going to buy a dog, but when someone told him he should visit a shelter to adopt instead, it seemed like a good idea. That's where he met, and fell in mutual forever-love, with a pittie mix named Ray. Shenouda told The Dodo's Pittie Nation that Ray's winning smile won him over, and Shenouda found himself quickly becoming something of a pit bull ambassador. His relationship with Ray made him want to share his experience and show the world what wonderful companions this misunderstood dogs can be.
Like the rest of the world's adoption proponents, Shenouda (sadly!) could nto adopt all the dogs, but as a photographer, he found he could donate some time to helping shelters — so often overwhelmed with the sheer numbers they have to move through their system — getting better photos of their residents, images that capture their winning pibble personalities far more accurately than the sad snapshots so often taken when they first come through the shelter doors.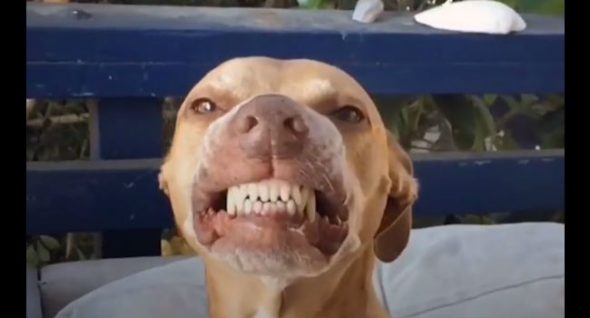 Since then, Shenouda's photos have helped countless dogs – pups just like his own beloved Ray – find their loving forever homes. He also does photo sessions for families, too, capturing pups and their people in beautiful moments they will cherish.
"Ever since I adopted my rescue pup Ray, it's been puppy love ever since!" Shenouda writes on his website. "Dogs inspire us to live life to the fullest and there's nothing I love more than to capture and share those moments!"
Check out Christian's website here!
A note about dogs who smile….
Animal behaviorists have noted dog "smiles" to be a submissive gesture of appeasement, one that shows you and other people that he or she is non-agressive, not a threat. Submissive grins, in dog-speak, are a way to show deference to another individual. Generally, say experts, these grins are associated with increased movement and a body posture that is lower than the dog's normal stance (remember when Ray was belly-crawling for his boiled chicken?).