In October of last year, a friend on Facebook posted a picture of a beagle that needed rescue. The Decatur County Animal Shelter in Indiana came across him at Cottonwood Lake. After time, no one seemed interested in adopting Jack, so Beagle Buddies Rescue Group stepped up. He wasn't an ordinary dog, he had special needs. He had only 1 eye, (the other was surgically removed sometime in the past). He was completely blind in his remaining eye. He had a broken hip and needed surgery. He could not bear weight on his leg, so he held it up while walking on 3 legs. Despite all of this, he was a HAPPY dog! I saw a video of him on Facebook, and his tail was constantly wagging.
We already had a 10 year old beagle, and had been thinking for a long while that we wanted another. I thought Jack would be perfect because he wasn't a high energy puppy. He would fit right in with a senior dog. My 4 year old daughter and I met him at his foster parents' home and fell in love. Soon enough, Jack was on his way to his furever home. After giving him plenty of love and affection, he began to trust our voices to guide him. Within a day or two, he responded to his name and learned his way around our house. At first he would prance around timidly, but now he can navigate every turn and corner without even brushing up against anything! We made a faux staircase out of boxes so Jack could reach our high bed. I patted the steps while I called his name, and praised him while he jumped up onto the bed. It literally only took Jack one try to learn to use the steps (while only using 3 legs!)
We immediately got his needed hip surgery. Within weeks he was walking on all fours, and soo happy to do so!  It brought our family great joy to see him running around the backyard and through the snow! This Spring he became ill so we scheduled to have his other eye removed (pressure made it painful for him), and during the pre-op work they discovered his liver enzymes were 10x higher than normal. After many tests and a lengthy hospital stay, his diagnosis was Hepatitis. We also discovered he has Irritable Bowel Syndrome. He received wonderful care from his veterinarian, Dr. Amy Smith, and soon he was feeling well enough to proceed with the eye removal surgery.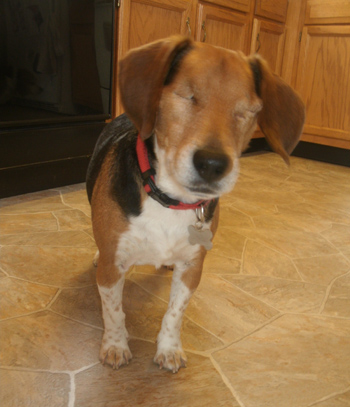 Already blind, he is recovering quite well. It is hard to believe that someone loved this dog at one time and quit doing so. He is AMAZING!!!! So sweet and content just to be laying by your side.
We get a lot of comments that Jack is so lucky to be adopted by a wonderful family that cares for him..We feel like we are the lucky ones. Jack has had a hard life, but he doesn't show it. When he gets knocked down, he always gets back up; with his tail wagging and an extended paw swiping at your side to pet him. If anyone is thinking about adopting, I highly recommend a rescue group. Jack has required a lot of medical care, but our expense has been minimal. A lot of his care was paid for with donations the rescue group raised. They also paid for his initial vetting including heartworm tests, neutering, shots, etc… Rescue dogs often have had rough lives, so they crave love and affection. They make great family pets!
The Stearns Family
Franklin, Indiana