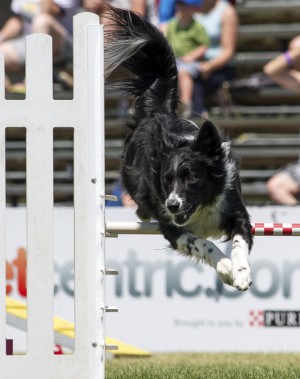 On October 6th, Fl'n, a black and white border collie, took first place in the large dog agility category at the 15th Annual Purina Pro Plan Incredible Dog Challenge National Finals. Seven years ago Fl'n was found wandering the streets and was about a week away from being sent to a kill shelter. Thanks to a chance meeting with Norm Lende, Fl'n got a second chance that led him to a national title.
Lende, a professional agility dog trainer, was at an Omaha dog show in 2005 when he met Fl'n, who was about 18 months at the time. "One of the volunteers at the local Humane Society brought the dog to the show in hopes of finding a home. The dog had been found wandering the streets and was about a week away from being shipped out to another shelter that was most likely, a kill shelter," said Lende. Although Lende wasn't looking for another dog he made a special connection with this one. "This was way too nice of a dog to let go, so we brought him home."
Once home with Lende, Fl'n began learning how to master an agility course. Lende was patient with Fl'n, slowly teaching him how to do the different obstacles. One thing that was obvious, Fl'n was fast, "Just incredible with speed, but this had to be a team effort where we work together. In fact in some events, he's been so fast it's hard for the judges to see whether or not he hit the marks." This natural speed is what helped Fl'n win his national title earlier this month.
Lende isn't surprised by Fl'n success, "Really a lot of the success with dogs is simply spending time with them. Don't just get a dog, leave them in the back yard and forget about them. You'd be amazed at what they can show you if you just spend time with them."