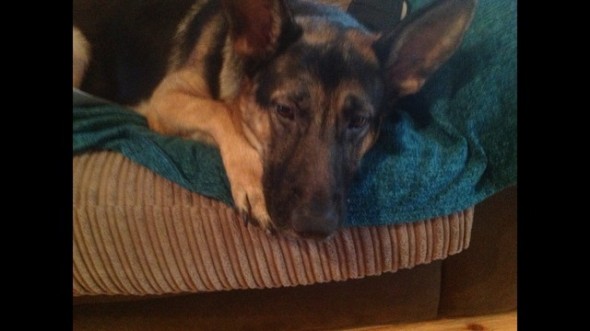 Shadow is a 14-month-old German shepherd that was rescued from a trap in Spain. He lost his paw because of the trap and now his adoptive family is hoping to raise the funds necessary for him to receive a prosthetic leg.
Shadow was found in Spain caught in a trap. The trap badly damaged his front paw and veterinarians were unable to save it.
He would have been put down if it wasn't for Sara May. She adopted him in October and brought him home to the UK with her. May has rescued 15 dogs from Spain since June. She finds them good homes, but Shadow she intends to keep with her.
May is focusing her efforts now on raising the necessary funds to purchase Shadow a prosthetic leg.
A prosthetic leg will not only allow Shadow to be more mobile but will also help with medical issues the lack of his front paw is causing. His hind legs are taking on additional strain, his hips have become displaced and he is developing arthritis. A new prosthetic leg will help with all of these issues.
"He has to have this front leg otherwise he doesn't have much of a happy life because his hips can't take it because he only has the one front leg," said May. "We're hoping this will take all of that extra strain from the back legs."
To make a donation to Shadow's prosthetic leg fund visit the fundraising website set up by May.