Kaos once had to fend for himself on the rough streets of Romania, but after being rescued, adopted by a UK family and trained up, he became a winner in a dog show where breed isn't important.  (Take THAT, Westminster!)
This mixed breed was taken in by the Hudd family of Trowbridge, and 11-year-old Sarah did the research to train him.
"It's important to get tips if a dog is difficult at first.  Don't give up; there is always someone who can help you," she told the Wiltshire Times.
"Rescue dogs often crave company so it helps to adopt two at a time, if you can, so they can learn from and reassure each other."
Her mother Mary and sister Jo found Kaos through ELI for Animals, a non-profit charity group in Romania.  Dogs taken in by the organization are rehomed locally and in the UK.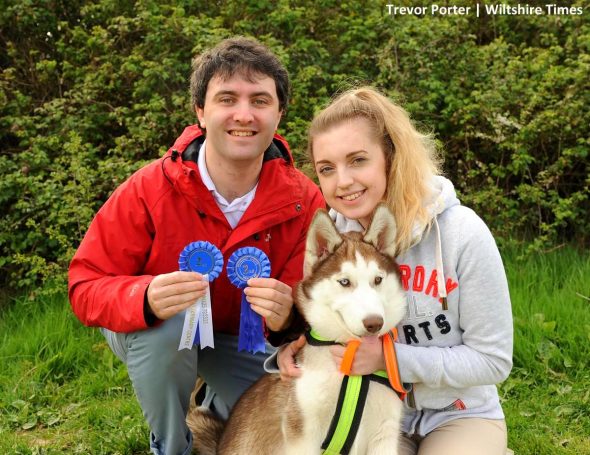 Sarah and Kaos won a rosette (a ribbon in the US) for Best Junior Handler at this weekend's dog show at Southwick Country Park.  Another big winner of the day was a five-month-old Siberian husky named Two Seconds.  He took home rosettes for Cutest Puppy, Handsomest Dog and Most Appealing Eyes.
"We will definitely be taking him to more this summer," said Alice Savory, who shares him with her husband James.  "The dogs really enjoy it; it's a great day out; and he slept very well afterwards!"
Event organizer Steph Wiltshire says that money raised by the show goes to animal charities.
"We had 113 dogs register on Sunday – a fantastic turnout," she explained. "We were raising money for Bath Cats and Dogs Home, which I'm particularly interested in as I did a week's work experience there in my teens."