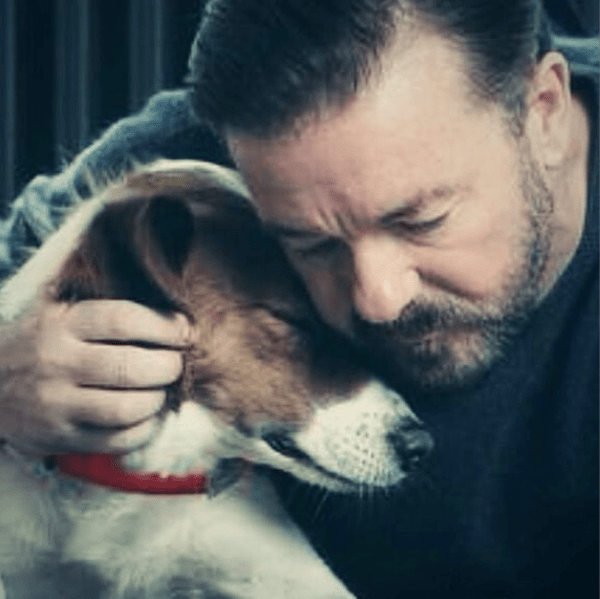 By now, almost every animal lover in the world knows about Ricky Gervais and his outspoken nature against the abuse of animals.  Now, Gervais is taking part in a full scale, international campaign to put a stop to China's dog meat trade and festival.
Gervais and the Humane Society International (HSI) are putting together a petition that aims to put a stop to China's use of both dog and cat meat.  He has been all over social media exposing the horrors of it all, and how we can help.  To view and sign the petition, you can simply click here.
In an interview with Fox411, Humane Society EU International Communications Director Wendy Higgins said, "Up to 10 million dogs are killed for human consumption per year across China, with around 10,000 just at the Yulin festival alone.  Undoubtedly there is still a way to go before we end this cruelty, but it is certainly a dying industry in every respect, and the number of dogs we're seeing killed at Yulin is getting smaller year on year.  The protest against this trade from within China itself is what's really heartening and making a massive difference.  HSI works with more than 35 animal groups and hundreds of campaigners across China who are outraged at the cruelty and want it to end."
HSI says they are lucky to have Gervais on board with the effort.  Having his star power backing them up, along with his considerable fan base, are key to the petition, and all of the international effort.
"HSI has worked with Ricky for quite a few years now on a number of our animal campaigns, he's an incredibly passionate advocate for animals and shares our determination to stop cruelty, so he's a natural fit," said Higgins.  "He's tweeted for us about our campaigns to end the dog meat trade before, but this year is the first year we've teamed up with him to appeal directly to the public on a wider scale."
You can get even more information on the campaign on Gervais' Twitter page.  You can view that by clicking here.