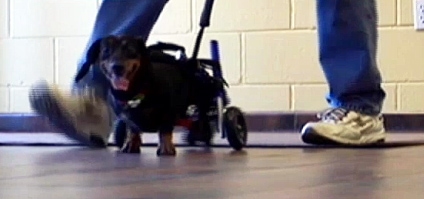 Ru Ru is not your average dog, and it's apparent that nobody has told him so. When you meet this wheelchair bound six year old pooch from Florida it's easy to forget that he is handicapped: he's a fiery little bundle of joy.
Watching the disabled Dachshund whirling about in pursuit of play and squeaky toys is a challenge – this active dog is a barking blur of fur, clearly happy to be on the move, and not ready to slow down any time soon by the looks of it. "That's what he likes best," says Sesso, the shelter manager at the Humane Society in Naples, FL. "He will squeaky for a long time."
A playtime accident left Ru Ru's back half paralyzed, and his previous owners said they could no longer care for him. After he spent months in shelters, the right home for Ru Ru was recently identified. Leslie Newcity and her husband Patrick Walker of Venice stepped up to offer Ru Ru the care he will need to live out a happy, fulfilled life. Newcity is a physical therapist who works with developmentally disabled adults and children.
Newcity is looking forward to introducing Ru Ru to her other dogs — Yorkshire Terrier Tyson, Shih Tzu Monte and Boxer Isabella — and to helping Ru Ru settle into his new life. Newcity understands that Ru Ru will require more attention than her other dogs, but it's a challenge she's ready to greet. "I'm going to embrace every day with him, embrace the challenge," she said. "He's the hero here. He's the hero."