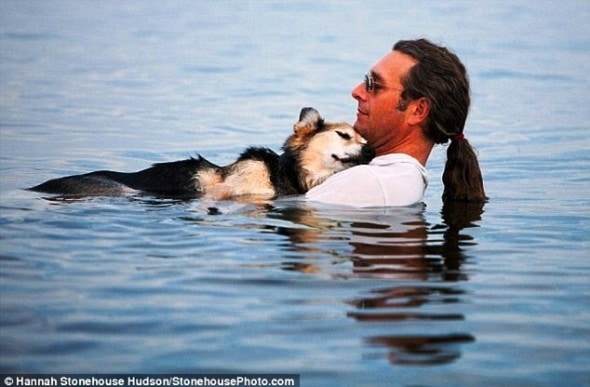 The photograph of John Unger and his 19-year-old dog Schoep in Lake Superior made newspapers everywhere.  Unger's friend and professional photographer, Hannah Stonehouse Hudson, snapped the shot seen round the world of the doting owner soothing his arthritic dog to sleep at what he believed to be the end of Schoep's life.  It wasn't before long that money for the Schoep Legacy Foundation came pouring in.
"I've never seen anything like this before," Unger said. "We realized we had received more money than we would reasonably spend on Schoep's care.
Schoep is now receiving top-rate treatments for his aging body.  The rest of the money will be used to help low-income families care for their own aging dogs, as well as provide services for spaying and neutering.  Bighearted donors from as far away as Saudi Arabia and Japan contributed after seeing the powerful image.
Dr. Erik Haukass, Schoep's veterinarian, said due to his deteriorating condition, euthanasia was probable by July.  But now things are looking up.
"Schoep is doing incredible right now," Unger said. "The therapies that the people have donated – it's like turning back the clock a year and a half."
Unger and Schoep's story began 19 years ago, when Unger and his fiancée were searching shelters, looking for "their" dog.  After year, they still hadn't found the right one.  But then they saw Schoep.  Unger immediately knew this was their dog.  He was a lonely and abused puppy sitting in the back of a cage, staring at the corner.  He had probably given up hope for a family to take him home.
"He didn't even know what toys were.  I really wanted this dog because I wanted him to enjoy life," Unger said.
Unger saved Schoep, and in time, the loving dog returned the favor.  After his divorce, Unger had contemplated suicide.
"To be honest with you, I don't think I'd be here if I didn't have Schoep with me (that night)," Unger said.  "He just snapped me out of it.  I don't know how to explain it.  He just snapped me out of it… I just want to do whatever I can for this dog because he basically saved my ass."
The pain of Schoep's arthritis has been agonizing, and the $200 treatments were too expensive for Unger.  He could barely walk or sleep through the night, but Unger wasn't ready to say goodbye to his friend without trying everything possible.
"Schoep falls asleep every night when he is carried into the lake. The buoyancy of the water soothes his arthritic bones. Lake Superior is very warm right now, so the temp of the water is perfect," Hudson explained.
Thanks to the generosity of strangers, Schoep is now receiving pain medication and joint laser treatments.  Unger is amazed at the progress, and says his walking has improved tremendously.  His vet has also noticed the marked improvement.
"He sleeps through the night.  He's interested in going for more walks during the day," Haukass said.  "He walks with less of a limp. His ears are standing up and his tail is wagging better."
He is hopeful the treatments Schoep is receiving will allow him to live many more months.