Most people can enjoy a good joke, especially those of us here at Life With Dogs.  But there is a line, and one man not only crossed it, but pranced over it with a prank so tasteless that it got him arrested.  Hopefully in the future, Markus Meechan will think twice before making light of something as reprehensible as the Holocaust, and will stick to teaching dogs to roll over instead.
In the video he uploaded to YouTube, Meechan said:  "My girlfriend is always ranting and raving about how cute her dog is so I thought I would turn her into the least cute thing you could think of which is a Nazi."
He's right – a Nazi is one of the least cute things one could think of.  I myself might have only raised an eyebrow at his video, had I not watched it in its entirety to see the amount of dedication he put forth and the merriment this evoked in him.
He repeatedly commanded "Sieg Heil" for the dog to salute, and asked him if he wanted to "gas the Jews" in the same singsong voice someone would use as if saying to a dog, "Wanna go out?"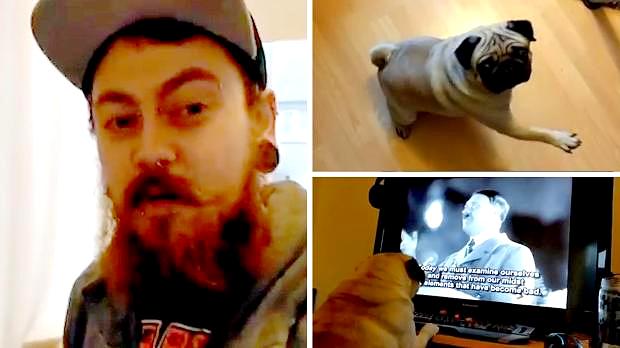 "I am not a racist at all, anybody who knows me could tell you that," explained to the Mirror.  "I'm freaked out because everyone's going to actually think that I hate Jews now and I don't at all. I'm kind of panicked about it."
Well, maybe he should have thought about that before posting the video online, where anyone in the world can see it.  While he claims to not be a racist, the length to which he went to carry out this gauche prank (a year) and the cavalier attitude he showed in regards to one of the darkest times in the course of human history is stomach-churning.
"My friends know my sense of humor which is very, very based on shock comedy, but the internet doesn't.  I just want everyone to know that I don't wish any ill-will on any race or anything, it's just how shock comedy works," Meechan said.
"I am so sorry to the Jewish community for any offence I have caused them. This was never my intention and I apologize."
"To regard the meticulously planned and industrialized murder of six million people solely on the grounds of their ethnicity as a joke is outrageous, and for someone who does so to claim not to be racist, beggars belief," said Ephraim Borowski, director of the Scottish Council of Jewish Communities.
"Antisemitism is not something that can in any degree be regarded as a joke," said a Council spokeswoman.  "It is a form of racism which needs to be condemned just as we would any other form of racism, just as we would condemn Islamophobia or anti-African racism."
Obviously not everyone appreciated Meechan's sense of humor, and on April 28th, Lanarkshire police arrested him.  He was released pending further investigation, however, the police are still not taking the matter lightly.
"I would ask anyone who has had the misfortune to have viewed it to think about the pain and hurt the narrative has caused a minority of people in our community," Detective Inspector David Cockburn told the Telegraph.
"The clip is deeply offensive and no reasonable person can possibly find the content acceptable in today's society.  This arrest should serve as a warning to anyone posting such material online, or in any other capacity, that such views will not be tolerated."